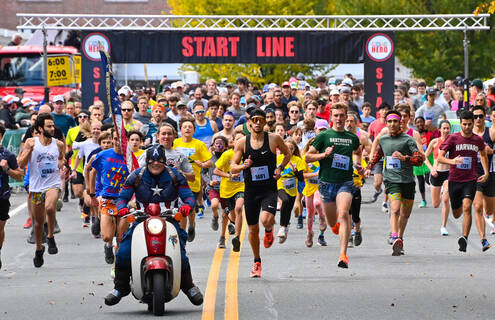 On April 28, National Superhero Day, we are celebrating the real-life superheroes – the pediatric patients who receive care at Dartmouth Health Children's. The kids who show us that resilience comes in all shapes and sizes.  
These children encompass what it means to be small but mighty, and as a past supporter of Dartmouth Health Children's, we invite you to become a part of their story when you register for the 18th Annual CHaD HERO. 
The CHaD HERO is the premiere fundraising and athletic event benefiting Dartmouth Health Children's. Proceeds raised will support the services offered at the Children's Hospital at Dartmouth Hitchcock Medical Center (CHaD), as well as throughout the Dartmouth Health Children's system, such as the Child Life Program, Molly's Place at the CHaD Family Center, and The Ken & Vickie French Child Advocacy and Prevention Program (CAPP). 
Register here | More information
The 18th Annual CHaD HERO will take place on October 15, 2023 in Hanover, NH.  
There are many ways to be a HERO this year. Run the CHaD HERO half marathon, join the 5K run or walk, Cam's Course 1-Mile Fun Run, volunteer, or participate virtually. As a virtual participant, you can do an activity of your choosing – hike, bike, swim, the sky's the limit! – from anywhere, any time. 
No matter what you decide to do to leave your impact, you are helping Dartmouth Health Children's continue to provide compassionate and groundbreaking care to families.  
Are you ready to be a HERO for CHaD kids?