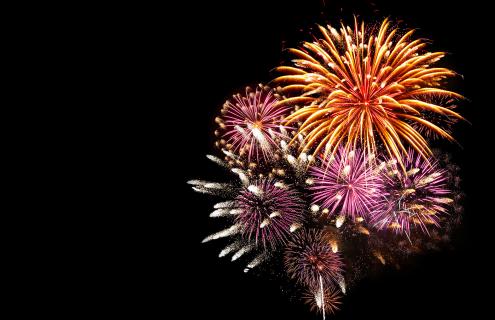 Summer comes with many reasons to celebrate—graduations, family vacations, barbecues, and of course, the Fourth of July. Leaving fireworks to the professionals is the safest way to enjoy fireworks, but for those who are legally able to purchase and use fireworks products where they are allowed, there are important safety guidelines to follow to keep yourself and those around you safe.
The Consumer Product Safety Commission reports that approximately 11,000 fireworks related injuries are treated each year in United States emergency rooms. Here are tips for keeping you—and your family—safe around fireworks.
"Fireworks can be exciting and enjoyable, but they can also be dangerous. Please make sure you follow these tips to ensure a safe celebration," says New Hampshire State Fire Marshal Sean P. Toomey.
Before using fireworks, be informed to prevent injuries
The "Three B's"
Because the sale and use of certain permissible fireworks is legal in the state of New Hampshire, it is important to follow the rules and safety guidelines for adults choosing to use them. The New Hampshire Division of Fire Safety, Office of the State Fire Marshal, recommends following the "Three B's" for safety: be prepared; be safe; be responsible."
Be prepared
Know the laws.

You must be 21 years of age to purchase, possess and use permissible fireworks in the state of New Hampshire. You must be on your own property or have written permission to use someone else's property or be in the landowner's presence. You must also follow local ordinances, which may have further restrictions on fireworks use in your area.
Maine and New Hampshire are the only two New England states that allow the purchase and use of certain permissible fireworks.
Do your research.

If you are planning to purchase consumer fireworks in New Hampshire, purchase them an authorized retail store in the state, where sales associates are trained to answer your questions. Follow all manufacturer safety instructions and if you have questions, ask your retailer for help.

Prep your area.

Call your local fire department to check on

current fire danger

conditions. Make sure there is enough space from houses, garages, sheds or porches and make sure you have a fire extinguisher, hose and buckets of water nearby.
Be safe
Protect yourself.

Always wear eye and ear protection, gloves and clothing that won't easily ignite (e.g. no nylon).

Keep spectators at a safe distance.

Each firework has a safe distance listed in its instructions. Fireworks should be set off outdoors and away from anything that can burn or easily ignite. Light only one firework at a time and move away quickly.
Be responsible
Be considerate.

Not everyone enjoys fireworks. Veterans, pets, livestock or your neighbor may not like the noise or brightness fireworks. Check with neighbors before using fireworks.

Stay cautious.

Fireworks

that don't fire are extremely dangerous. If a firework does not discharge, keep away from it for at least 10 minutes, then make sure that the firework has been filled with water or placed in a bucket of water.

Clean up.

Clean up firework litter when finished. Make sure any litter or items used to light fireworks (matches, lighters) are taken care of and out of the reach of children.
Remember - There are no "minor" fireworks
​Among the top three most injury causing fireworks are firecrackers and bottle rockets. Sparklers can be just as unsafe as any other firework, burning at 1,200 degrees Fahrenheit. The diagram to the right shows just how hot sparklers can get. Sparklers can easily burn hands, and have caused children's clothing to catch on fire. Leave the sparklers for adults to handle and send children off with glow sticks or novelty LED lights.
For more information regarding fireworks safety, check out the following resources or visit Safe Kids.