What a game! Team East and Team West put on an incredible display of sport, sportsmanship and impact at the 11th annual NH East-West High School All-Star Football that took place on Friday, June 23rd, at Saint Anselm College's Grappone Stadium.
After a great game that went into double overtime, Team West ended up taking the victory over Team East (13-10). Thanks to our sponsors, players, and community members, we raised over $228,000 to benefit the patients and families we serve at Dartmouth Health Children's and CHaD.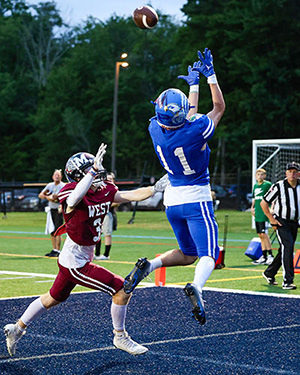 A big thank you to our presenting partners, Bedford and Nashua Ambulatory Surgical Centers, and their leader - our game founder, Nick Vailas. Longstanding sponsors AutoFair returned supporting Impact and Player Fundraising, New Hampshire Steel Fabricators backed Team West, Jewett Construction supported Team East, and both teams were sporting the latest uniforms courtesy of Nike. Harvey Construction, ImageFIRST, Longchamps Electric LLC, Amoskeag Beverages, Millennium Running LLC, Anagnost Investments Inc., Metropolis Property Management, Gorman-Thomas Inc. joined over 40 other businesses in support of the 2023 All-Star Football game.
As always, players had a big role in the fundraising effort, voluntarily raising tens of thousands for the programs and services at Dartmouth Health Children's and CHaD. After fierce competition, Team West won the fundraising battle with over $30,000 raised as a team. Team East's players also brought in just over $30,000, led by the game's top fundraiser, Michael Sampson of Londonderry High School, who raised $4,594. Team West's Montana Hanchett of Hanover High School was their top fundraiser and brought in $4,253 in support of our mission.
After a scoreless game through the first quarter, Team East's Ethan Moss secured a 22-yard field goal and put Team East in the lead 3-0. Finishing out the end of the second quarter, Chris Messmore of Team West kicked a successful field goal from the 35-yard line that tied up the game going into halftime.
The third quarter saw strong defense and offense from both sides, which took the teams into the fourth quarter still tied 3-3. Team West started the fourth quarter out strong, with Matt Santosuosso and Reimello Hyde leading Team West to their first touchdown and taking the lead 10-3.  With an exciting finish to the fourth quarter, Team East's Drew Heenan completed a pass to Andrew Kullman for 20 yards resulting in a touchdown for the team – tying the game once more.
Ending the game in double overtime, Chris Messmore of Team West kicked the game-winning field goal bringing the final score to 13-10. Team West's victory was Merrimack Football head coach Kip Jackson's first All-Star Football head coaching victory and Team West's third consecutive win over Team East.
Congratulations to the NH East-West High School All-Star Football MVP, Team West's Toby Brown, Jr. of Nashua North, for his outstanding efforts and sportsmanship during this year's All-Star Game.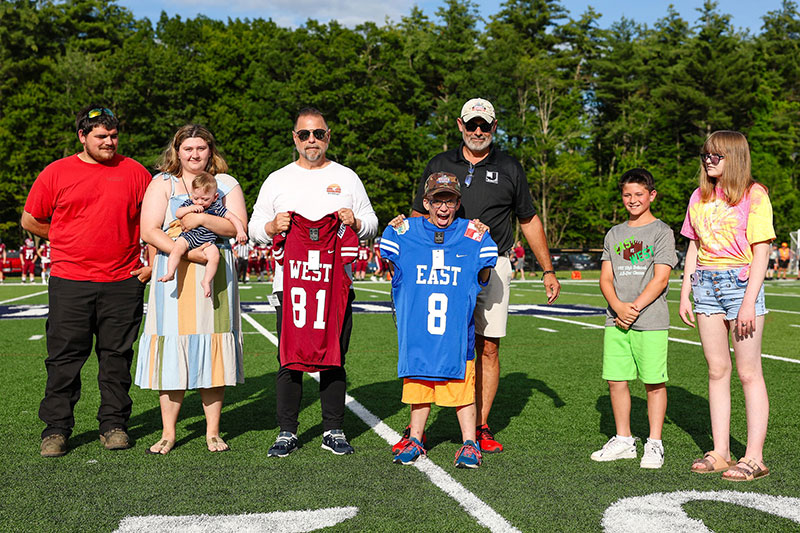 Many thanks to the people and businesses who made the All-Star Football Game possible, starting with our sponsorship committee. These business and community leaders volunteer their time to help make the All-Star Football Game a huge success year after year. This event would also not be possible without our wonderful volunteers, who play a large role as well, with nearly 30 volunteers required to keep the event running smoothly on game day.
Saint Anselm College's staff and students also contributed to the game. Led by Rob Foreman, this team once again helped us put on a fantastic night of football and fun in honor of Dartmouth Health Children's and CHaD.
Lastly, we are incredibly grateful to the players and coaches who commit months to the All-Star Football Game, culminating with over a week of practices leading into the game. A special thank you to Team West's Head Coach, Kip Jackson of Merrimack High School and Team East's Head Coach, James Lauzon of Londonderry High School. Along with their assistant coaches, they spent countless hours planning for an incredible night of football as well as encouraging players and fellow coaches to raise funds for the programs and services provided at Dartmouth Health Children's and CHaD. Coach Jackson and Coach Lauzon exemplified true leadership on and off of the field this year – thank you!
In the Fall, the next high school season will begin and that means we'll be looking for the next group of 2024 All-Stars to hit the field in June! Stay tuned for more details as they become available.