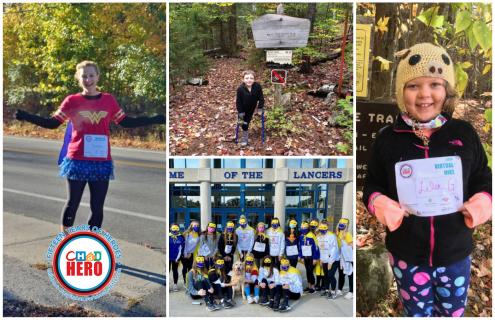 Over a 15-day stretch in mid-October, HEROES from across the nation came together to support CHaD kids through the 2020 Virtual CHaD HERO, the largest fundraising event for Children's Hospital at Dartmouth-Hitchcock (CHaD). Nearly 1,000 participants and dozens of sponsors and donors joined efforts to raise $515,000 (and counting) for programs to benefit our 95,000 pediatric patients.
Celebrating its 15th anniversary, the CHaD HERO launched October 4, giving participants a 15-day window to complete their mission. Those HERO fundraisers  hiked, biked, ran, walked, and completed virtual quests across 26 states.  The completed missions included the traditional HERO events – half-marathon and 5K runs, 5k walk, 5-mile hike, 25- or 50-mile bike ride, or the one-mile family fun run.  Virtual Quest participants raised money in myriad ways, including golfing, calisthenics, rowing, chopping wood, step challenges, spinning, swimming, and more.
On Sunday, Oct. 18, the event concluded with a CHaD HERO celebration, an online gathering of sponsors, donors, and participants to celebrate their achievements and to honor our Kid HERO Crew. These 10 CHaD patients provided inspiration for the event while also representing the 95,000 kids who rely on the programs that events like the HERO support.
The top individual and team fundraisers were recognized at the celebration. Molly's Place Heroes saw CHaD employees and volunteers come together and raise over $41,500 to benefit Molly's Place at the CHaD Family Center.  The top individual fundraiser was Jennifer Lyon. She raised more than $8,500 as part of Winnie's Warriors, the team she created to honor her son, Winston, who spent his entire 103 days of life in the CHaD Intensive Care Nursery in 2019.  As a team, Winnie's Warriors generated over $14,000.
Despite the pandemic, dozens of sponsors continued to provide support for the HERO, led by The Jack and Dorothy Byrne Foundation, which provided matching funds for participants as part of its overall support. Additional support came from Couch Family Foundation, Kitchel-McLaughlin Family Fund, Hypertherm HOPE Foundation, Bank of America, Oliver Mechanical Inc. (half marathon partner), King Arthur Baking, Pete & Gerry's Organic Eggs (costume contest sponsor), and Children's Fund of the Upper Valley/Norwich Partners of Florida.  New partners included Montagne Communications and the 5K race partner, SLC Group Holdings, LLC.  White Mountains Insurance Group, BaySon Company, Global Forest Partners LP, Geokon, and Eastern Propane & Oil provided additional support for the event.
Additional info on the event and its impact at CHaD can be found at www.CHaDHERO.org. Photos of virtual participants are available at www.Facebook.com/CHaDHERO.