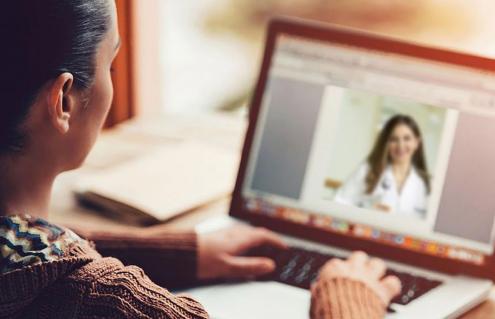 Dartmouth-Hitchcock Health's (D-HH) Virtual Urgent Care is healthcare that meets you on your terms. Whether you're home with a sick child or hiking with friends, D-HH Virtual Urgent Care provides 24/7 access to fully licensed, board-certified medical providers from Dartmouth-Hitchcock (D-H) and MDLIVE. So, you can get trusted care when—and wherever—you need it most.
Once you register, simply request to see the next available doctor or schedule a visit for later that same day. Your care. Your schedule.
Expert care you already trust  
D-HH Virtual Urgent Care offers around-the-clock access to board-certified physicians with years of experience in emergency medicine, internal medicine, family medicine and pediatrics. 
D-HH Virtual Urgent Care is staffed primarily by D-HH Emergency Department physicians 7 am to 7 pm, Monday through Friday. During weekends and overnight hours, MDLIVE physicians deliver care to patients across the U.S. and its territories, and provide D-H backup services during the week.
Cost-aware care options 
Knowing where to go when you need care is important. Feeling empowered to understand what your care may cost also provides peace of mind.
With D-HH Virtual Urgent Care, you can see a board-certified physician for $59 per visit. Comparatively, emergency room visits average $600, urgent care visits typically cost $125-$150 and retail clinics generally charge $80.
However, if you are experiencing a medical emergency call 9-1-1 immediately.
Easy-to-use platform
The platform is designed to treat non-emergency conditions including rashes, colds and flu, bronchitis, allergies, urinary tract infections, sinus infections and more. When you register and need care, you will be asked a variety of questions to determine whether you should proceed. For example, if you have chest pain, you will be referred to an emergency department.
"The triage feature respects everyone's time and can tell patients if virtual care might not be a good fit," explains Matthew B. Mackwood, MD, MPH, D-H Heater Road Family Medicine and D-HH Virtual Urgent Care Program. "If the initial screening recommends virtual care, it lends itself to high-quality conversations."  
Improving community health
In addition to providing peace of mind, post-visit data show 20 percent of patients would have delayed care without this option, and more than 7 out of 10 patients report an excellent overall experience.
James B. Ebert, Jr., MD, FACEP, medical director, D-HH Virtual Urgent Care Program, says the average visit lasts eight to 15 minutes—saving 83 percent of patients one to two hours of time.
D-HH Virtual Care is also unique for its connectivity to patients' electronic health records. Typically, notes are uploaded to myD-H (patient portal) in less than 60 minutes. 
"This is an access point to efficiently manage your own time. This can be a game changer," Ebert shares. "Virtual Urgent Care provides broader access to care, as well as lower-cost care."
D-HH Virtual Urgent Care is available through the D-HH web portal (with Express Registration available for employees on the D-H Health Plan), the D-HH Virtual Urgent Care Mobile App and by calling (833) 599-0447.
To open a myD-H account, request a code at myD-H.org. Click on the "create an account" button under the sign in to request an activation code.
Due to Medicare and Medicaid billing rules, D-HH Virtual Urgent Care is not currently available for Medicare or Medicaid beneficiaries. If you are enrolled in Medicare or Medicaid, please click here for assistance finding other care options.