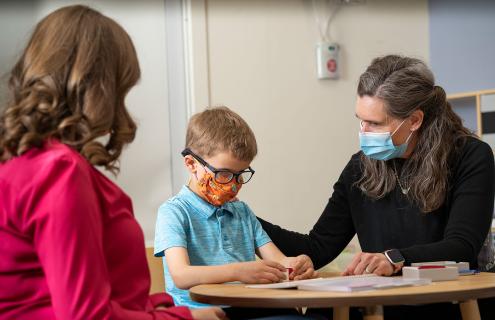 Twenty-seven Dartmouth Health Children's physicians, across 12 pediatric specialties, recognized as "Top Doctors" by New Hampshire Magazine.
Please join us in congratulating the physicians recognized. We are proud of the breadth of exceptional care they provide—helping our community's infants, children, and adolescents live their happiest, healthiest lives.
The 2023 pediatric "Top Doctors" honorees are listed below by member hospital and specialty.
Cheshire Medical Center
Pediatrics
Jessica S. Payton, MD
Marni A. Silverstein, MD
Dartmouth Hitchcock Medical Center and Dartmouth Hitchcock Clinics
Adolescent Medicine
Developmental-Behavioral Pediatrics
Pediatric Cardiology
Christopher J. Clarke, MD, MSC
Jenifer A. Glatz, MD
Thomas B. Johnson, MD
Pediatric Dermatology
Pediatric Emergency Medicine
Pediatric Endocrinology
Pediatric Gastroenterology
Amer Al-Nimr, MD
Marc A. Hofley, MD
Anthony H. Repucci, MD
Julie L. Sanville, DO
Pediatric Hematology – Oncology
Pediatric Nephrology
Pediatric Pulmonology
Pediatric Surgery
Pediatrics
Charles T. Cappetta, MD
Mark D. Carney, MD
Leslie S. Dick, MD
Stacey A. Kopp, MD
Tessa J. Lafortune-Greenberg, MD
Theresa M. Oliveira, MD
Todd M. Poret, MD
Andrew J. Schuman, MD
Catherine D. Shubkin, MD