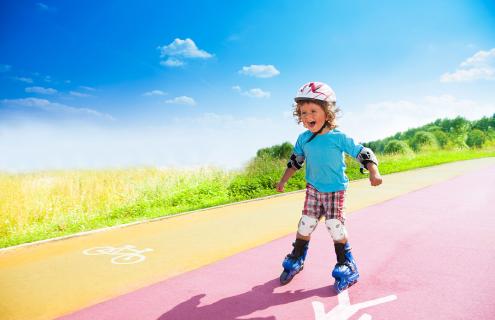 Biking, skateboarding, scootering and skating are popular summer activities for children. While they are great ways for children to stay active outdoors, they also lead to injury when important safety measures aren't followed. According to Safekids.org, 50 children per hour are seen in emergency rooms with an injury related to bikes, scooters, skates or skateboards. Most common among the injurie were and fractures involving shoulders, arms, elbow, wrist or hand, and serious head injuries like concussions.
Here are some important reminders for staying safe on summer wheels. 
Maintenance
Maintaining your child's bike, and the equipment on it, is an essential part of biking safety. The same goes for scooters, skateboards and skates. Every season, bikes and other wheeled gear should be inspected.
For bikes:
Be sure the seat height is appropriate for your child's height—their feet should be able to touch the ground.

Check tires. Just like the tires on your vehicle, underinflated tires can change the movement of a bike. Tires usually need more air and higher pressure than a car tire, so check the bike's tires for the recommended inflation setting, which should be located on the sidewall of the tire.

Inspect the bike for any damage to the frame; handlebars should be square to the tire to help the bike turn properly.

Inspect chains to make sure there isn't any slack.

Check for damage to brakes, gears and reflectors.
For scooters, skateboards and skates:
Check for any cracked, loose or broken parts.

Inspect the scooter for any damage to the frame and like bikes, make sure tires are properly inflated to manufacturer's recommendations.

Check scooters for damage to brakes or reflectors
Wear a helmet and other safety gear
Whether on a bike, scooter, skateboard or skates, children should be wearing a helmet. New Hampshire law requires children under 16 to wear a bike helmet.
A properly fitted bike helmet is just as effective when riding a scooter, roller skating or in-line skating. However, when skateboarding and long boarding, children should be wearing Consumer Product Safety Commission (CPSC)-certified skateboarding helmet. The CPSC offers a resource for choosing which helmet is best for each activity.
Helmets should fit snuggly. The straps must be no more than one or two fingers above the eyebrow, and no more than one to two fingers should be able to fit between the chin and strap. A helmet should sit on top of the head in a level position, and should not rock forward, backward or side-to-side. The helmet straps must always be buckled, but not too tightly. View the SafeKids Helmet Fit Test video.
Knee pads and elbow pads are recommended for children on scooters, skates and skateboards, and wrist guards for skaters and skateboarders. Mouth guards are also suggested to protect against broken teeth.
Clothing and footwear
Your child should wear appropriate clothing and footwear when biking and using other summer wheels. Clothing should be bright or include yellow or green fluorescent or reflective material, especially if biking near dusk. Avoid letting them wear any loose-fitting clothing that could get caught in the chain. Never let them wear flip-flops or footwear that could easily slip off their feet.
Make sure roller skates and in-line skates are the right size and fit properly.
Know the rules of the road
Teach your child the rules of the road. This includes knowing hand signals and other rules such as where and when to ride on the sidewalk, if there is one. When biking, if there isn't a sidewalk, tell your child to ride in the same direction as traffic and as far to the right as possible.
Skating, skateboarding and scootering, however, should never be done any roadway. Limit these activities to areas set aside in well-lit areas of public parks, skate parks or smooth, flat bike paths.
Understanding the rules of the road and being able to follow them requires a level of maturity. Children riding a bike (or any wheeled gear) under the age of 12 should always be supervised by an adult.
Be visible
Light up your child's bike or scooter. Reflective gear, such as bike reflectors, are essential to bike safety, even for daytime riding. Add reflective stickers, attach reflectors or have them wear a jacket, safety vest or sash. There are many bike lights and blinkers available, and luckily, for your child, there are some fun options.
For more information about other ways to keep your children safe on summer wheels visit Safekids.org.
Jim Esdon is the program coordinator for the Injury Prevention Program.