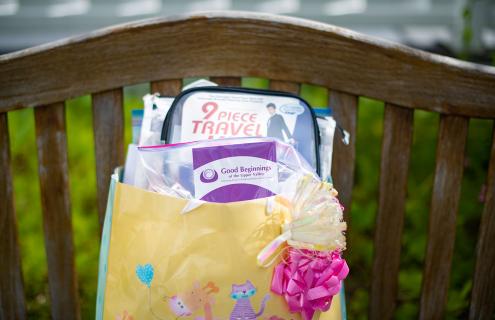 Families with babies receiving care in an Intensive Care Nursery (ICN) often must delay or cancel their baby showers. To celebrate the lives—and futures—of the ICN babies at Children's Hospital at Dartmouth Hitchcock Medical Center (CHaD at DHMC), the ICN team recently held a baby shower complete with gifts, games and activities for families to enjoy.
Through a partnership between the March of Dimes' NICU (Neonatal Intensive Care Unit) Family Support Program and Dartmouth Health Children's, Joanna Celenza provides education and support to ICN families. The March of Dimes/CHaD ICN Family Support specialist's twins required ICN care—so she knows firsthand the challenges families experience. Understanding the importance of hopefulness motivated her to plan this baby shower with her fellow ICN staff members.
"It was a day that felt normal for families whose worlds were turned upside down," Celenza explains. "The support of the March of Dimes and our partners made it possible and was a reminder that we live in a very generous community."
Along with the March of Dimes NICU Family Support Program, Good Beginnings of the Upper Valley and the Women's Health Resource Center provided donations and funding for the shower.
A day to remember
Families received baby blankets, bath toiletries, diapers and wipes, and were invited to select books and clothing for their babies. These items were purposely for older babies so that families can plan for the future at home with diaper and clothing sizes their babies will need upon discharge—and beyond. Self-care kits for men and women were provided, as well as grab-and-go snacks.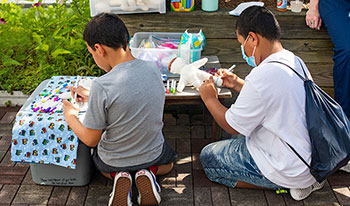 Torie Miele, MS, CCLS, Child Life specialist, designed activities for siblings to prepare for bringing babies home. They created their own babies using blank canvas cloth dolls and practiced diapering and swaddling on them.
Dartmouth Health Visual Artist Kim Wenger Hall helped families get creative by leading them in custom painting of baby blocks with numbers, names or initials.
"We received a lot of feedback from families that it was such a relief to step away from the bedside, connect with other parents and laugh," Miele shares. "The event showed families that they're not going to be here forever—and that we're planning for their babies' futures."
The baby shower featured a trivia game that helped families focus on those futures. Photos of well-known celebrities and leaders born as preemies were posted on the walls for families to guess their identities. These included Stevie Wonder, Michael J. Fox, Wilma Rudolph and Albert Einstein.
"We try to offer opportunities for hopefulness," says L'Tonya M. Johnson, MSW, pediatric social worker. "We can share that a lot of people—including famous ones—are born with medical conditions. It doesn't mean that they won't have bright, full lives. Life just might be a little different for them."
Along with parents and siblings of the ICN babies, CHaD at DHMC staff members benefited from the happy event.
"Joy and celebration are universal human needs," says Rev. Skye Murray, MDiv., BCC, chaplain. "So much of my work as a chaplain is at the hardest and most heartbreaking moments. I felt an overwhelming sense of emotion to be part of this event that brought such joyfulness to our ICN families."
Based on this event's success, the ICN team plans to organize more baby showers in the coming year.
Learn more about Dartmouth Health Children's ICN