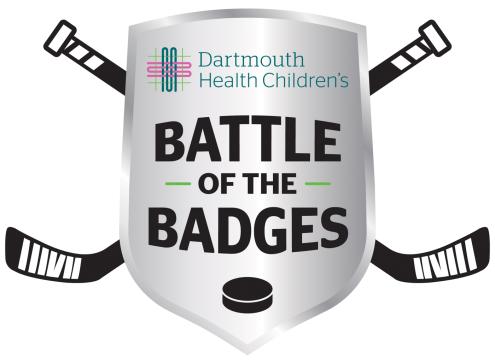 Dartmouth Health Children's and Children's Hospital at Dartmouth Hitchcock Medical Center (CHaD) announces the rosters for the 15th annual Battle of the Badges Hockey Championship. The annual game, featuring police officers, detectives, marshals, state troopers, sheriffs, department of corrections officers, firefighters, dispatch workers, EMTs, and more, will take place at Manchester's SNHU Arena on March 18, 2023, at 1:00 p.m.
Rosters for both teams feature an equal mix of new and returning players, promising a competitive game exhibiting a wide range of skill sets. With one practice already completed, both teams are gearing up for a show-stopping game to celebrate 15 years of fundraising for children.
Team Police returns to the ice with hopes that they can repeat their 2022 win, where they won 5-2, breaking Team Fire's two-year winning streak. The Police squad will be led by co-head Coaches Wayne Sheehan (Kensington, retired) and Dan Doherty (Manchester, retired). They will be assisted by Billy McBournie (Hillsborough County Department of Corrections, retired) and Kyle Daly (Manchester). Captain Dan Conley (Goffstown) is returning for his 13th game and alternate captain Kyle Manlow is returning for his fourth game.
Team Police's roster includes 24 players representing a total of 17 departments throughout New Hampshire, such as Seabrook, Epping, Hampstead, Portsmouth, Nashua, Kensington, Merrimack, Durham, Londonderry, and Manchester. Seven of Team Police's players will be playing in their first Battle of the Badges Hockey Championship on March 18. Combined, Team Police players will have a total of 100 years of Badges experience after this year's game.
Team Fire, led by Head Coach Micky Drouin (Dover, retired) is out to reclaim the title in 2023. Celebrating his 15th year with Battle of the Badges Hockey, Drouin is the only player and coach to be involved for all 15 years.
Returning Captain Jeff Clattenburg (Lebanon) will be skating for his 14th year while alternate captains Ian Gill (Concord) and Chris Couturier (Dover) will be skating for their ninth and 14th years, respectively. Team Fire represents 19 departments throughout New Hampshire, Vermont, and Massachusetts, including Concord, Dover, Manchester, Sutton, Hampstead, Merrimack, Hartford, VT, and Danvers, MA. The 2023 Badges Hockey Championship will be the first game for eight of Team Fire's players. Team Fire will have a combined total of 124 hours of Battle of the Badges Hockey Championship experience after this year's game.
Both teams will practice throughout the next few months, ending just before the game on Saturday, March 18. Tickets are available at chadhockey.org or email CHaDHockey@Hitchcock.org.
About Dartmouth Health Children's
Dartmouth Health Children's is the only comprehensive pediatric healthcare system in the region. Fully integrated in Dartmouth Health and anchored for more than 30 years by Children's Hospital at Dartmouth Hitchcock Medical Center (CHaD)—in Lebanon, NH—Dartmouth Health Children's promotes health, advances knowledge, and delivers the best patient and family-centered care for infants, children, and adolescents across New Hampshire and Vermont. Dartmouth Health Children's conducts groundbreaking research and educates the next generations of health professionals as the primary pediatric partner of the Geisel School of Medicine at Dartmouth. Highly skilled and collaborative child health professionals provide care in multiple settings across the region. Outpatient specialty visits and same-day surgery services are available at Children's Hospital at Dartmouth Hitchcock Medical Center (CHaD) and Dartmouth Hitchcock Clinics Manchester. Primary care appointments in general pediatrics are available at Dartmouth Hitchcock Clinics in Bedford, Concord, Lebanon, Manchester and Nashua, NH and Bennington, VT; as well as at Dartmouth Health members: Alice Peck Day Memorial Hospital, Cheshire Medical Center, New London Hospital and Mt. Ascutney Hospital and Health Center.