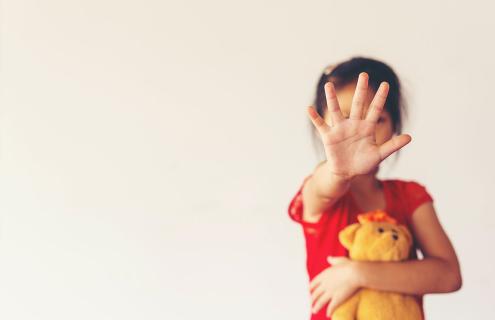 When child abuse or neglect is suspected, families in New Hampshire and eastern Vermont have a trusted resource to deliver medical care, guidance and advocacy. The Ken & Vickie French Child Advocacy & Protection Program (CAPP) is located at the Dartmouth Health Children's Hospital at Dartmouth Hitchcock Medical Center and has three specialized clinics at the Children's Hospital, Manchester Clinic and Nashua Clinic, in addition to supporting Elliot Hospital Clinic.
"Our program provides trauma-informed, trauma-sensitive, family-centered and resiliency-focused diagnostic care," explains Resmiye Oral, MD, section chief, CAPP "No one will be judged, criticized or made to feel 'less than' in our clinics. Our objective is to find out why a child is behaving a certain way, and our main goal is to build rapport and trust with families so they feel at home in CAPP clinics and with CAPP staff."
Children are referred to CAPP by primary care and emergency room providers, police officers and child protection agencies, including New Hampshire's Division for Children, Youth and Families (DCYF) and Vermont's Department for Children and Families (DCF). The staff of 3 doctors, 3 nurse practitioners, 5 social workers and 4 nurses deliver diagnostic medical exams and provide extensive social work support in both inpatient and outpatient settings. In all our encounters, the Child Life team also provides preparation, coping resources and advocacy for children and their families.
Comprehensive care and follow-up
Once a child arrives in a CAPP clinic, while a Child Life specialist meets with the child, the social worker and the medical provider meets with the child's caretaker. The Child Life specialist and the nurse then support the child and the medical provider for a comprehensive, child-led medical exam—everything is explained to the child, and their consent or permission is obtained at every step of the way.
If child abuse or neglect is suspected, information is shared with DCYF or DCF, and the social worker provides resources to the family with a follow-up call within a week to offer further support. Team members communicate with DCYF or DCF for ongoing communications at times holding hospital-based multidisciplinary team meetings. Some patients with medical needs require follow-up exams, including injured infants and sexual assault victims. CAPP typically sees victims of sexual abuse, physical abuse, neglect and psychological maltreatment aged 0 to 18 years.
During 2021, CAPP provided care to children with more than 550 referrals (up from 420 in 2020,) 688 outpatient appointments (up from 324), 403 phone consultations (up from 228), and 31 testimonies (up from 28). Oral reports that the COVID-19 pandemic caused a drastic decrease in child abuse referrals while schools were closed, partly explaining the major 2021 increases. Improved referral processes are also responsible for this jump.
Along with diagnostic medical exams and hair toxicology tests to determine drug exposure, CAPP providers triage cases and offer phone consultation to callers 24/7 through a robust call schedule; review community-agency referred records; testify in civil and criminal courts; assist community agencies including child protection services, police and county attorneys especially on high profile cases; and support child abuse prevention activities.
Dedicated advocates
CAPP is an accredited member of the National Children's Alliance.  The Child Advocacy Center uses a multidisciplinary approach which brings the necessary disciplines involved in the investigation, prosecution and treatment of child abuse cases. These include child protective services, law enforcement, prosecution, specialized medical services, community specialized mental health services, child advocacy centers and victim advocacy. The Child Advocacy Center serves New Hampshire's Grafton and Sullivan Counties and coordinates these partnerships to ensure cases move forward appropriately and justly.
With maltreatment cases, the Child Advocacy Center coordinates the multidisciplinary team to come together and provide forensic interviews of the child and wrap-around services to the family to help them on a path towards healing.
 "Forensic interviews bring art and science together. They are neutral, objective, fact-finding and detailed," Cathy Brittis, manager, Child Advocacy Center, explains. "This semi-structured model is research-based and allows the child to narrate as much as possible in a developmentally appropriate way."
The majority of cases involve sexual abuse, and staff are often called to testify as expert witnesses. Brittis reports the Child Advocacy Center saw 323 children in 2021 and 266 in 2020 but continued in-person forensic interviews despite the pandemic.
Along with interviews, case coordination, case reviews and promoting healing for victims, the Child Advocacy Center advocates for child protection and education, including its annual "Shield our Children from Harm" conference.
"It is our collective responsibility as adults to educate ourselves, learn the signs of abuse, share the information, talk about it and report it.  This is how we can make a difference," Brittis says. "We need to recognize that child abuse crosses all walks of life and socioeconomic factors, and that 94% of victims are abused by someone they know and trust."
In New Hampshire, everyone is considered a mandated reporter if you suspect a person is being abused or neglected. Although Vermont does not have this requirement, everyone is encouraged to report any child safety concern. If you suspect child abuse, call the police, child protection services or CAPP at (603) 653-3658.
To learn more about CAPP and the Child Advocacy Center, visit https://www.chadkids.org/child-advocacy and https://www.chadkids.org/child-advocacy/child-advocacy-center-chad. Visit https://knowandtell.org/ and https://www.missingkids.org/ for additional resources.