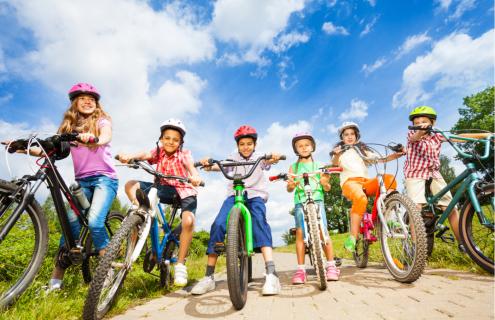 Summer fun continues as August kicks off, requiring an ongoing need for children to be safe while participating in outdoor activities. Biking, skateboarding, scootering and skating are popular summer activities, and while these are great ways for children to stay active outdoors, they also can lead to injury when important safety measures aren't followed. According to Safekids.org, 50 children per hour are seen in emergency rooms with an injury related to bikes, scooters, skates or skateboards. Most common among these injuries are fractures involving shoulders, arms, elbow, wrist or hand, and serious head injuries like concussions.
Patricia Q. Clerkin, MD, director of pediatric neurosurgery at Dartmouth Health Children's, shares important tips on how to stay safe on summer wheels in this new video:
Important reminders from Clerkin:
Whether on a bike, scooter, skateboard or skates, children should be wearing a helmet. New Hampshire law requires children under 16 to wear a bike helmet. A properly fitted bike helmet is just as effective when riding a scooter, roller skating or in-line skating. However, when skateboarding and long boarding, children should be wearing Consumer Product Safety Commission (CPSC)-certified skateboarding helmet. The CPSC offers a resource for choosing which helmet is best for each activity.
Wear appropriate clothing and footwear when biking and using other summer wheels. Clothing should be bright, fluorescent or reflective.
Teach your child the rules of the road. This includes knowing hand signals and other rules such as where and when to ride on the sidewalk, if there is one.
About CHaD
As New Hampshire's only full-service, comprehensive children's hospital, the Children's Hospital at Dartmouth‐Hitchcock (CHaD) is committed to providing outstanding compassionate care for children and their families. Their physician expertise provides primary, specialty, and tertiary care to the children of New Hampshire, Vermont, and beyond. CHaD offers inpatient (hospital care) and outpatient (same day care) services at Dartmouth‐Hitchcock Medical Center in Lebanon, NH. Outpatient and same-day surgery services are available at Dartmouth‐Hitchcock Manchester. Primary care is available at Dartmouth‐Hitchcock facilities in Bedford, Concord, Keene, Lebanon, Manchester, and Nashua, NH, and Bennington, VT. For more information about CHaD, please visit childrens.dartmouth-health.org or contact us at 603-650‐KIDS or chad.community.relations@hitchcock.org.