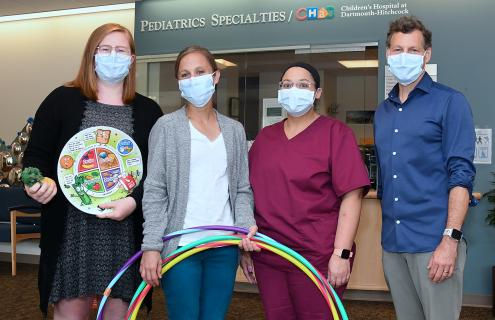 We bring physicians, registered dietitians, medical social workers, youth fitness trainers and health coaches together in one place to reduce logistical challenges and create a custom team for our patients and their families.
Auden C. McClure, MD, MPH
More than 18.5 percent of children aged two to 19 in the U.S. are obese. According to the Centers for Disease Control and Prevention (CDC), the rate of childhood obesity has tripled since the 1970s. Childhood obesity rates in New Hampshire (12.3 percent) and Vermont (15 percent) are lower than the national average, but the problem is no less dire. "We're seeing co-morbidities including fatty liver disease, type 2 diabetes, and high cholesterol and hypertension in younger and younger kids," says Marc A. Hofley, MD, Pediatric Gastroenterology, Children's Hospital at Dartmouth-Hitchcock (CHaD).
Addressing obesity and stabilizing or reducing the risk of co-morbidities requires patients to develop age-appropriate sleeping, eating and exercise habits. With children, family engagement is essential. That is why CHaD's Pediatric Lipid and Weight Management Center takes a family approach to the evaluation and management of familial hyperlipidemia (high concentration of fats in the blood) or complex obesity and metabolic disease. Multi-disciplinary teams tailor care to each patient and family and their specific conditions and risks.
Tips for a Healthy Plate
Based on a balanced plate model of eating, Hannah Brilling, RD, CHaD, shares some guidance for parents and children on how to eat healthy and prevent chronic diseases like obesity, diabetes and heart disease.
Aim to get all the food groups onto the plate at mealtimes and serve with water or milk. Don't worry about finding "perfect" or "super" foods.

Aim for protein at all meals and snacks. Fish and plants (soy, beans, lentils, nuts or peanut butter) are best. Cheese or Greek yogurt are also great.

Aim for a quarter of your plate to be high-quality carbohydrates like whole-grain bread, rice, pasta or starchy veggies like potatoes. Choose appropriate portions and cook at home when possible.

Choose healthy fats like olive or canola oil, oil-based salad dressing, avocados, nuts and fish. Limit packaged food and take-out.

Try for half of your plate to be fruits and veggies and choose lots of colors for lots of nutrients. It's okay to choose the same veggie at most meals. Salad meals, soups, stews and stir-fries are a great way to bring veggies center stage.
The 5-2-1-0 Guide to a Healthy Lifestyle for Kids
Recommended by the American Academy of Pediatrics, the 5-2-1-0 Guide offers families a simple mnemonic to build and maintain a healthy diet and exercise habits.
5 or more fruits & vegetables – By replacing high calorie, nutrient poor food with nutrient-rich vegetables and fruit, families can reduce the risk of obesity, diabetes and heart disease, stroke and some types of cancer.

2 hours or less of recreational screen time – Using a computer and smartphone are important for schoolwork and for communication. Still, too much screen time can add to sedentary time and increase exposure to food advertising.

1 hour or more of physical activity – 60 minutes of moderate to vigorous exercise helps maintain weight, build healthy bones and muscles, and establish an active lifestyle.

0 sugary drinks, more water – Sodas and other sugary drinks are a leading cause of childhood obesity and increase risks of type 2 diabetes, heart disease and tooth decay. Limit 100 percent juice. Water is the best choice!
Exercise: Make it Routine, Make it Fun
"More important than a particular exercise is an exercise routine, especially when your family starts out," says Sonya E. Charles, MS, CCLS, child life specialist, CHaD. "And the easiest way to stick to an exercise routine is to make it fun. Find an exercise your child, and you enjoy that makes you breathe heavier and gets your heart rate up."
Routine – Family schedules are full, so it's critical to think ahead each week and pick days and times for exercise. Sticking to the same exercise days and times from week to week helps to establish a routine that you can look forward to and plan around.
Fun – Besides engaging in activities you enjoy—running, hiking and games like tag or kickball—take pride and find joy in tracking your exercise consistency and progress toward a lower resting heart rate and increased endurance.
The only clinic of its kind in the region, the center has been in operation for a decade and cares for hundreds of children each year through two locations. As Co-directors, Hofley directs the Manchester, NH, site, and Auden C. McClure, MD, MPH, the Lebanon, NH, site, which offers obesity related care for all ages, child and adult, as part of the larger Dartmouth-Hitchcock (D-H) Weight & Wellness Center.
"It's hard for busy families juggling multiple jobs, kids, school and activities to navigate all the treatment options or providers needed to address the complexities of obesity and co-morbidities," says McClure. "We bring physicians, registered dietitians, medical social workers, youth fitness trainers and health coaches together in one place to reduce logistical challenges and create a custom team for our patients and their families." Hofley explains that their focus is always on metabolic health and risk reduction. "We don't set or track weight loss goals, and we only monitor Body Mass Index (BMI) to evaluate metabolic risks," he says. "Weight loss is helpful, and many of our teenage patients are interested in losing weight, but we're working to normalize blood pressure, control diabetes, address fatty liver disease or control other obesity co-morbidities."
"In younger children, we work on prevention of metabolic disease with a goal of avoiding lifestyle related co-morbidities," says McClure. "Guiding parents to help their children develop good habits early on, like a healthy balanced diet, good sleep and lots of daily activity, sets them up for a healthier future."
Children are referred to the center by their primary care physician. Parents typically understand the need for focused care. Children often don't. "Most of the disorders kids come with, like hypertension, are silent," says Hofley. "For young kids, if nothing hurts, nothing is wrong. Teenagers always feel invincible. We start with education about the chronic, progressive nature and consequences of obesity and hyperlipidemia-related diseases."
An initial 90-minute visit at the center includes a child's family—parents and siblings—and the entire care team. "After that first meeting, patients return every two or three months for health coaching or to see a provider for medical management," says McClure. "Care and intensity are tailored to each patient and family. One patient might need to focus on diet and nutrition while another needs help with fitness or a mental health challenge."
Beyond prescribing specific dietary improvements, dietitians work with families to overcome obstacles to healthy eating. "Cost, time and picky eaters all get in the way of parents providing consistently healthy meals and snacks," says McClure. "By understanding a family's budget, work schedules and tastes, our nutritionists can guide them toward replacing red meat with plant-based proteins and reducing sugary drinks, for example. Easy low-cost recipes and snack or meal ideas are part of the care plan."
The center also offers in-person and virtual cooking classes to help families translate nutrition recommendations into practical day-to-day skills and routines. "Families learn to make healthy, delicious and affordable meals," says McClure. "Kids have fun in the teaching kitchen. They try new foods and recipes and make small shifts away from highly-marketed processed foods toward more balanced and plant-forward diets."
Social workers or health coaches are available to help parents who might be dealing with their own, often similar health challenges, general stress, or anxiety and depression, to create a plan for consistency. "Our social workers often help families overcome food security issues, connect to fitness centers or deal with other obstacles to a healthy lifestyle," says Hofley. When patients aren't already involved in school sports, after-school fitness programs, or routinely-scheduled physical activity with friends and family, youth fitness coaches help create a plan for regular exercise at the appropriate intensity. "Guidance is often about looking ahead," says Hofley. "A patient might be in a fall sport but doesn't have a plan for the winter. The coach helps families think through available fitness options that will keep them on track."
Having a range of services and providers in one place eases the logistical challenge of care for many but the distance is often an obstacle. "Manchester and Lebanon are long drives for some families," says McClure. "We work primary care networks to deliver as much care as possible locally, but encourage referrals to our team for more intensive and multi-disciplinary care. Telehealth currently allows us to serve families throughout the region." Learning and acquiring new sleep, eating and fitness habits requires lifestyle changes, and change is hard. It takes time, consistency and guidance. "Evidence shows that greater program intensity can lead to better outcomes," says McClure. "We do provide one-time consultations, but, on average, patients and their families work with us for two years," says Hofley. "Some patients stay with us until adulthood and then transition to care in the adult program at the D-H Weight & Wellness Center. We want patients to continue care until their health habits are consistent, and their metabolic health is stable."
"Addressing obesity, hyperlipidemia and their associated diseases is different for every patient, but, for our young patients, it's always complex and requires the support and participation of their entire family," says McClure. "Our team supports all families in creating healthy habits and a home environment that addresses and helps to prevent any metabolic risk facing their child now or in the future."