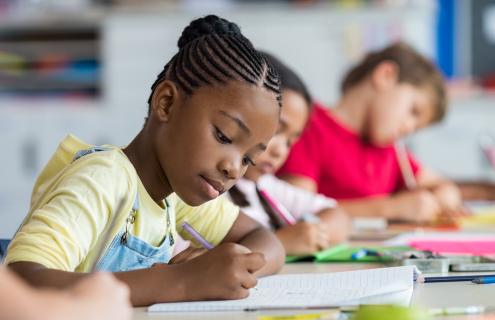 Children are resilient when we give them the support and tools they need to feel better.
Nina Sand-Loud, MD
When schools, extracurricular activities and social time went virtual at the COVID-19 pandemic's start, children and families had to navigate life in ways never before experienced. While some children thrived during online learning and managed the pause on sports, the arts and playdates, most found it very difficult.
Healthcare providers report developmental challenges that vary by age and an increased demand for behavioral health support—while studies show the pandemic's disruptions have negatively affected academic proficiency nationwide. More children need help building skills impacted by several years of pandemic-fueled stress and anxiety, but resources provided by families, teachers and healthcare providers can boost their success.
Noticeable developmental impacts
For younger children, the pandemic's effects differ by developmental stage. Dartmouth Health Children's Developmental Behavioral Pediatrician Nina Sand-Loud, MD, explains that infants through 3-year-olds spent most of their lives at home, with less opportunity to practice skills among peers. This led to general delays in problem solving, language and gross and fine motor skill development.
Preschool children aged 3 to 5 years are taking longer to transition to school and separate from their parents. Social anxiety and trouble regulating emotions are now common in this age group, but there are strategies parents can use to lower the anxiety.
"It's not surprising children took in some of the pandemic's messages that make them feel unsafe around others," Sand-Loud says. "Parents can help children slowly confront the things that make them anxious, like having playdates outside where no one wears masks. Focus on positive parenting to give children the skills they need at their stage of development."
Jessica Laperle, MHA, CCLS, CPXP, patient experience manager, Child Life Program, Dartmouth Health Children's, observes "tiny people carrying around giant worries." She says children feel safe and figure out their identity and place in the world when surrounded by family, neighbors and peers—and instead, pandemic isolation made them miss critical social-emotional development milestones (including understanding personal feelings and those of others, managing emotions and expressing themselves), feel stress and experience behavioral health needs.
"Children are lacking tools in their 'toolbox,'" Laperle explains. "To help them self-regulate, one of the simplest things to teach them is calming, diaphragmatic breathing with their bellies. Practice these deep, slow breaths by blowing bubbles or pinwheels together."
The academic landscape
Overall, school-aged children have experienced a drop in math and language arts proficiency in both New Hampshire and Vermont, mirroring the national trend. The New Hampshire Department of Education published statistics comparing spring assessment tests conducted in 2021 and 2019 that showed math scores were hit hardest.
In 2021, 38% of students statewide scored proficient or higher in math—while 48% did so in 2019. Reading proficiency dropped 4%, resulting in 52% of students demonstrating proficiency in 2021 from 56% in 2019. Across subject areas, in-person students generally scored higher than remote learners.  
Vermont students shared similar results, with 41% of third graders testing proficient in math in 2021 compared to 52% in 2019, and 42% with language arts proficiency in 2021—down from 50%. Seventh grade students had a 9% reduction in math proficiency and a 5% drop in language arts scores between the two test years.
Sand-Loud says schools are working to address these gaps with various resources, including tutoring, and teachers are expertly pivoting to support the social-emotional needs—along with the academic needs—of students.
"After years at home with adults, some students want all the teacher's attention and will have tantrums or pick on others to get it. We can't make up lost time—and the brain continues to develop," Sand-Loud explains. "Social-emotional needs must be met to be ready to learn, and this is the task right now. Children are resilient when we give them the support and tools they need to feel better."
The adolescent experience
Thanks to their developmental independence, teenagers largely weathered the pandemic better academically than younger children. Although some thrived with remote learning—especially those with social anxiety—many others suffered.
"A challenge for parents is we grieve their loss of experience: prom, graduation and social connections. We know what should've been," says Susanne E. Tanski, MD, MPH, section chief, Pediatrics, Dartmouth Health Children's. "But this is their lived experience. Some children made the most of it and are finding joy, while others are experiencing anxiety and depression. It varies widely."
Teenage anxiety and depression rates are increasing. Even the college admissions process has changed due to COVID-19, affecting the number of accepted students. Many teens aren't getting into their dream schools and need help adjusting their expectations and managing disappointment.
If teens are withdrawing and spending more time on devices and away from friends, Tanski recommends networking with other parents to gauge typical behavior. "If you're worried it's real, validate it," she says. "Don't hesitate to reach out to your pediatrician for help."
Here are some positive parenting tips for infants through teens from the CDC.