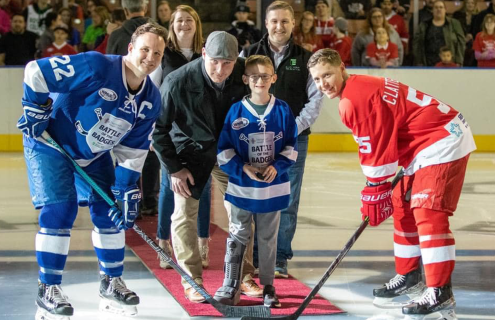 On March 18th, firefighters, police officers and first responders from across the state of New Hampshire faced off in one incredible competition — on and off the ice. Presented by long-time partner The Elliot Perry Foundation, the 15th annual Battle of the Badges Hockey Championship raised critical awareness and funds for Dartmouth Health Children's and the Children's Hospital at Dartmouth Hitchcock Medical Center (CHaD).
The 2023 Battle of the Badges Championship saw a 5-1 Team Police victory with more than 4,600 fans in attendance. The game raised $230,000 and counting for Dartmouth Health Children's and CHaD, bringing the 15-year total to more than $3.1 million raised. Fundraising remains open through June 30th.
Team Police earned the off-ice title of top fundraising team by generating more than $74,000 as a team. Team Fire impressively raised over $66,000, with Michael Snide (Claremont) taking the the top individual fundraiser spot. Snide, who celebrated his 10th year playing in the game, raised more than $17,000.
After the game, Ambassadors—kids who have needed Dartmouth Health Children's services in their lives—got to visit with the teams on the ice.
Police now have nine wins in the all-time series against Fire's five total victories. The 2013 game featured East and West squads with players from both police and fire departments on each team.
The Battle of the Badges Hockey Championship would not be possible without the generous support of our partners. Thank you to:
Coca-Cola Beverages Northeast
The Elliot Perry Foundation – Presenting Partner
Epping Police Benevolent Association
FORGE VFR
Germaine & Blaszka
Goffstown Police Association
Hampstead Police Department/Village Vinyl
Hockey Night in Boston
iHeart Media
Leavitt Electrical Contractors, LLC
Liberty Utilities
Metro Walls – Team Police Sponsor
NHMI/Safe Sports Network
NHPBS
Rocky Boots
Rye Harbor Builders
Sandown Police Explorers
Seacoast Hockey Officials
Service Credit Union – Team Fire Sponsor
Stanley Elevator
WMUR
To support the Battle of the Badges Hockey Championship or learn more, visit the Battle of the Badges Hockey Championship website.