By

Bonnie Barber

Photography by

Mark Washburn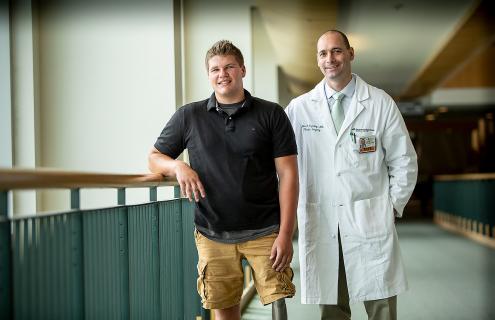 When you see 16-year-old Tommy Cox walk through Dartmouth-Hitchcock Medical Center (DHMC), it's hard not to marvel at his powerful physique. It's not surprising to learn that he can bench press 315 pounds or that he plays football, lacrosse and wrestles for North Andover High School in Massachusetts. What is surprising to discover is that Tommy does all of this with one leg.
Tommy came to DHMC as a patient on September 5, 2013, transported on the Dartmouth-Hitchcock Advanced Response Team (DHART) helicopter after suffering a traumatic leg injury from a boating accident on Lake Winnipesaukee. A group of dedicated doctors, nurses and staff members of DHMC, DHART and the Children's Hospital at Dartmouth-Hitchcock (CHaD) teamed up to save his life that day. They also helped him heal during his two-month stay at CHaD, after he underwent more than 30 follow-up surgeries.
Nearly every year since, Tommy has returned to DHMC and CHaD to say hello and thank you to his caregivers. "They meant so much to me," Tommy says. "All the nurses and doctors and everyone were really nice, and it was like they were my friends instead of me being a patient in the hospital. I felt at home there."
"Our world had crumbled that day and they were there to help us," his mother Julie says. "They were just amazing."
The DHART Rescue
Flying over New Hampshire in the DHART helicopter, the Mobile Emergency Response Team sees some spectacular views of the Granite State's mountains, forests and lakes. "Early fall over Lake Winnipesaukee is probably the best place you could ever fly over; it's a beautiful view. But we did not enjoy the scenery on the flight over the lake that day," says Matt Guy, APRN, then a DHART flight nurse. Guy was dispatched to the accident scene in Laconia with DHART flight paramedic Andy Miller, FP-C, and DHART pilot Scott Cauntner.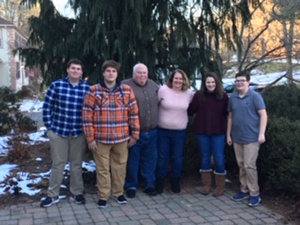 Julie Cox was at work that day while her husband and four children were out on the lake. "They had the day off from school, so they were having one last trip out on the boat for the season," she says. "They were wrapping up and my husband didn't know that Tommy had jumped off the back of the boat. It was just an accident.
"When my husband called 911 they were still in the middle of the lake. The Laconia Fire Department said they were getting an ambulance to bring Tommy to the local hospital, but the fire chief said no, get DHART. If that hadn't happened, things would've been a lot different."
When the DHART helicopter landed, Tommy was in an ambulance being stabilized by the Laconia emergency responders. "They did a fantastic job controlling the bleeding," says Guy. "Tommy was awake, but very quiet. He wasn't intubated because trying to intubate him with the injuries he had and his low blood pressure would have been very difficult."
Miller adds, "He was very pale and it was clear that he had lost a lot of blood. We carry three units of blood, so we were able to initiate a blood transfusion in the helicopter. Tommy did a great job of staying calm and being brave. This allowed us to work on him and to do our job."
During the 15-minute flight they radioed the DHART transport coordinator back at DHMC. "We made it clear that he required a pediatric trauma nine, which is the highest level of trauma response you can have for a child," Guy says. "When you call for a trauma nine, everybody comes: the trauma surgeon, the blood bank. That made a big difference for Tommy since he did eventually need so much resuscitation with blood products in the ED [Emergency Department]."
Caring for Tommy in the Emergency Department
Miller and Guy wheeled Tommy into the ED at around 5 pm and the trauma team sprang into action. "We had brought our extra two units of blood in with Tommy and tried to assist as best we could," says Guy. "I do remember that everyone was instantly in love with him. When you see a kid who's hurt like that your heart goes out to them."
Shelly Moses, who was then a DHMC Chaplain intern, was in the trauma bay when Tommy arrived. "When your pager goes off and it's a level nine, you know you need to drop everything and respond," says Moses. "We're the third tier of responding people. We're not saving people's lives, but there's going to be fallout for family and we're there to help them with that."
When Tommy came into the trauma bay, she was immediately struck by his charisma. "Despite this horrific accident, this little boy was talking and charming and gregarious," she says. "He had this magnetism and sparkle."
Eventually Tommy's blood pressure rose enough so that he could be intubated. Miller recalls, "Dr. Daniel Walsh [the trauma surgeon] was very keen to make sure that Tommy was no longer aware of what was going on as they continued to manage his devastating injuries."
Once he was stable, Tommy would then be moved to the Operating Room (OR) to try to save his badly injured leg. "We were waiting for him in the OR for nearly three hours," says Laura DeSchamp, RN, a clinical nurse in Perioperative Services who had set up the OR for Tommy's arrival. "The anesthesia providers who were going back and forth between the ED and the OR said they didn't think we were going to see him. His prognosis wasn't good. But he pulled through. By the time he made it to the OR, my shift had ended, so I didn't meet Tommy until about a week later."
Caring for Tommy's family
Moses eventually went out to the ED waiting area, where she and CHaD Child Life Specialist Kristen Johnson awaited the arrival of Tommy's family. "The difficult part of meeting them as a chaplain when they're walking through the door is that they think Tommy has died," says Moses. "When they arrived, we told them Tommy was alive and then we were with them as the doctors explained his condition. They were in shock, so I think it was helpful to have us there to help the family process the information."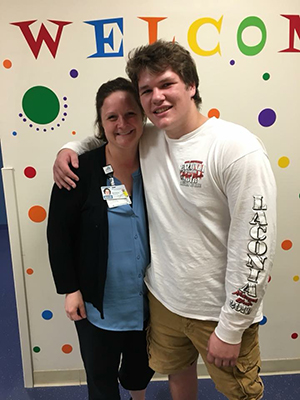 Johnson knew that John and Julie Cox's other children—Tommy's brothers Johnny and Charlie and sister Rachel—were there when the accident occurred and that they would need special attention. "I believe it is important to meet families where they are in the moment and follow their cues as we guide them through unfamiliar territory," says Johnson. "I sat with them in the waiting area, listening to them and preparing them, knowing that Tommy would be admitted to the Pediatric ICU [Intensive Care Unit]. My focus was supporting the parents in sharing information with the siblings. The doctors were going to do everything they could to save Tommy's leg, but the siblings knew it was badly injured. They shared their fears and I processed it through with them. I wanted them to know that this wasn't anyone's fault and that their brother was being cared for in the best way he could possibly be. I also offered them outlets to share their own experience and emotions, such as writing words of encouragement for their brother as they waited for him to come out of the OR."
Teri LaRock, who was then a social worker in the Pediatric Intensive Care Unit, showed Tommy's parents how to secure rooms at David's House for their family, and recommended other local and community resources. "We typically facilitate the parents getting a room at David's House and give them the lay of the land about what to expect there," says LaRock. "That first night we were just hoping for survival," says Julie Cox. "I was cautiously optimistic based on what the doctors were telling us, but it was tough."
Caring for Tommy in the OR and the PICU
Tommy was transferred from the ED to the OR at around 8 pm and plastic surgeon John Nigriny, MD, was part of the OR team that operated on Tommy that night. It was the start of a long-term relationship between the two, as Nigriny ultimately operated on Tommy about 30 times over the next two-plus months. He also performed another minor skin surgery on Tommy this past September.
"I operated on him that first night along with a lot of other surgeons," says Nigriny. "Tommy had suffered devastating, multi-level injuries to both legs. The propellers had cut into his legs significantly. He had vascular surgery to reconstruct some of the vessels in the severely damaged leg and he had some orthopedic stabilization in the other leg. That first night we were continuing to debride the wounds [surgically removing contaminated tissue] and coming up with a reconstructive plan for the severely injured leg. He had cut through his sciatic nerve. We were going to attempt to put that back together and he was going to need a lot of soft tissue reconstruction as well."
Tommy was eventually transferred from the OR to the Pediatric Intensive Care Unit at 11 pm that night and the next day began a long series of surgeries. "He had surgeries almost every other day," says Julie Cox. "They cleaned his wounds regularly, so there was a lot of debriding and dressing changes, which were pretty painful. One of the big worries was infection because the accident happened in the lake and he had so many wounds. So, the infectious disease folks came in a lot, too. There were also skin grafts, closing wounds. Most of the surgeries were with Plastic Surgery and they did an amazing job with him. But about seven days later they had to amputate his leg."
"What ultimately happened is the vascular graft to his leg failed and that changed the whole paradigm," Nigriny explains. "He went from a whole limb salvage to a partial limb salvage that required amputation above the knee. Our goal was to preserve as much length of the remaining leg as possible, which would enable him to wear a prosthesis and be functional."
"My parents have told me how complex my case was and that Dr. Nigriny considers it a piece of art," Tommy says. "I'm so thankful for everything he did for me. He's a great guy and my parents and I love him."
Tommy is also thankful for DeSchamp and Johnson, who spent many hours with him during his two months in the Pediatric Intensive Care Unit and later on the Pediatric Inpatient floor. "While it can be hard to provide continuity of care in the OR, my unit nurse manager Anne Edmunds, RN, agreed with me that we should try to have the same person with Tommy every time he came to the OR since it's so tough for a child," says DeSchamp. "So, I was with Tommy 99 percent of the time. If I couldn't be there, I would tell him who would be with him. And I would tell that person to remember to bring Sprite, Tommy's favorite teddy bear."
"Laura would always bring my teddy bear in before I had surgery," Tommy says. "She was awesome."
Johnson spent a lot of time with Tommy in the Pediatric Intensive Care Unit. "We would just sit and have conversations about what his hopes and wishes and worries were," she says. "The great thing about Tommy and his family is that they were so open to having those conversations and talking about those hard things in the midst of experiencing them, which isn't something we see every day. Tommy was so insightful for his age."
Tommy's family continued to receive support from LaRock, who saw them regularly during his hospitalization. "My job was to help support the parents and family so they could focus on and care for their son," says LaRock. "Social workers take into account the strength that families bring in with them, and Tommy's family had strength in the form of family, friends and their employers, who were all supportive of them. And his community was an impressive source of support as well. His accident was a few months after the Boston Marathon bombings and I remember that everyone had 'Tommy Strong' T-shirts. And they certainly were strong."
LaRock says that DHART and Emergency Department staff members also regularly visited Tommy during his hospitalization. "Tommy really connected with the DHART and ED staff during his time with them," LaRock says. "His wonderful personality and spirit were contagious, and a bond really developed between them, Tommy and his family."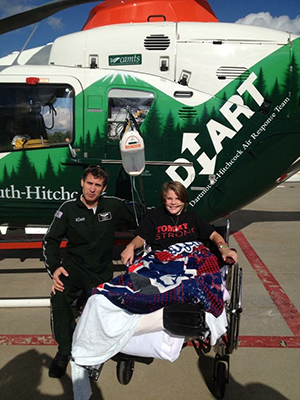 A Memorable Patient
Tommy celebrated his 11th birthday at CHaD on November 7 and then was discharged a week later to Boston's Spaulding Rehabilitation Hospital. Everyone who came into contact with Tommy still remembers his case, even if they've missed his subsequent visits back to CHaD and DHMC. What still stands out to people five years later?
"Tommy survived this largely due to his bravery and character and because everybody played their role," says Miller. "It was great to see everyone come together."
"I was struck by the fact that Tommy became extremely brave very quickly because he had multiple trips to the operating room and he didn't know what the status of his ultimate recovery would be," says Nigriny. "He was stoic beyond his years. And it's so impressive where he's come from since then. He hasn't let this injury slow him down. He's gone on and lived his life, which was our hope. I give all the credit to him and his family. It's just really amazing what he's done and the courage he's exhibited through it all."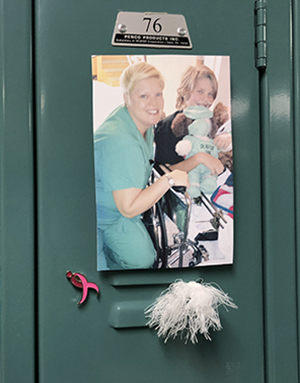 "I have a picture of Tommy and me on my locker, and when I've had a terrible day I look at that picture of us and it makes me feel better," says DeSchamp. "He went through so much and was just a champ through all of it."
Reflecting on the past five years, Julie Cox says, "If you asked me what's the biggest achievement, I'd say it's that he's just a regular kid. If he's wearing long pants, people don't know about his leg. Yes, his gait is different, but you might think it's because his foot is sore. He's just living his life. I do credit Dartmouth-Hitchcock with all of that."
When Tommy is asked what advice he has for people facing similar injuries, he says, "I tell them you've got to move past it and I encourage them to do things, not just sports, but anything they want to do so they can prove to themselves and other people that they can do it. It's important to just do it rather than avoiding something and looking back 10 years later and wishing, 'Wow, I wish I'd done that.' That's why I try to do as much as I can. Not just for me, but to show everyone else that they can do it, too."