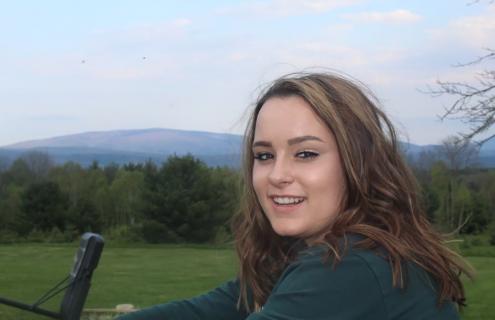 "Sierra Strong" signs posted in Upper Valley yards. A cross carved in a tree. A Facebook page calling for prayer warriors, with thousands of followers worldwide. These are some of the visible actions taken by Sierra Longmoore's family and friends after she was in a rollover car crash on July 8, 2020, in Newbury, VT, when she was 17. While they've always appreciated her many gifts—being loving, intelligent, athletic and faithful—they now simply call her, "The Miracle."
Sierra's continuing recovery is far from what the 23 rescue workers, DHART (Dartmouth-Hitchcock Advanced Response Team) crew, nurses and attending providers at Children's Hospital at Dartmouth-Hitchcock (CHaD) could have expected. She lost a significant amount of oxygen and was unresponsive. Diagnosed with a severe traumatic brain injury (TBI), she had skull fractures on both sides of the brain, scattered hemorrhages, brain stem tears, leaking spinal fluid and bruises on her lungs that required ventilator use.
During Sierra's 22 days in a medically-induced coma, the front part of her skull was removed to reduce pressure in her brain. Several times, her medical team feared the worst and braced her family for the fact she may not survive.
"She had associated pneumonia from the ventilator placement, needed an arctic blanket to stabilize her body temperature and was on a PICC tube for nutrition," says her mother, Amy Longmoore. "Since she was sedated, we didn't know what brain activity she would have, and after two weeks–based on CT scans–the highest hopes were she would brush her teeth on her own someday."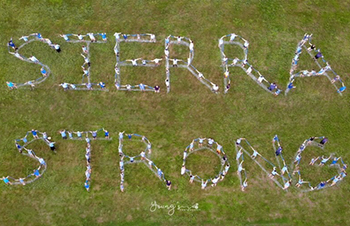 Hope builds with progress
On August 11, Sierra was transferred to Boston's Spaulding Rehabilitation Hospital in a vegetative state. Two weeks later she awoke, and said, "I love you" to her parents. By early September, Sierra took six steps. Working with various therapists, her progress exceeded set goals. When she went home on October 6, she could walk for six minutes straight at two miles per hour but struggled with balance, language, memory, gross and fine motor skills.
Returning to CHaD to begin outpatient rehabilitation the next day, Sierra had surgery on October 16 to replace the front part of her skull. Amazingly, she didn't have any complications, including common post-surgery headaches or seizures. Her vision was also intact, despite an initial expectation that she would be blind in her left eye.           
Post-surgery, Sierra's progress skyrocketed. Rehabilitation Medicine Speech Therapist Danielle Vilmain, MA, CCC-SLP, CBIS, coordinated Sierra's care with her occupational and physical therapists, Rebecca Choubah, MOT, OTR/L, and Maxwell Post, PT, DPT. "Sierra initially had 32 percent of her memory and couldn't remember what we worked on by the end of our sessions," Vilmain explains. "She was in the prime period for recovery, but her motivation and drive was a therapist's dream. She made me a better therapist by inspiring me to learn everything I possibly could to help her recover."
While working on cognitive, memory and linguistic skills with Sierra, Vilmain noticed that she could be experiencing a vision issue, which resulted in her needing prism glasses. She also coordinated district-provided speech therapy at Sierra's high school to permit her return to school in late November, just five months after the accident.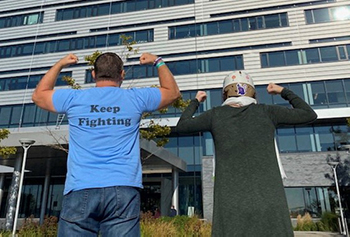 A leaps and bounds recovery
When Post first met Sierra, she struggled with a fear of falling. Post used a support harness and virtual reality balance machines to help get Sierra's gait and balance back to normal. As her cognition improved, she practiced balancing by sitting and standing from various chair heights and eventually worked on skipping, balancing on one leg while typing, dribbling basketballs and throwing softballs.
Post credits her swift progress to her energy and family support. "They would all come to physical therapy with her—her parents, twin and other siblings—which made a difference with following exercises at home," he says. Sierra was discharged from physical in March and rejoined her softball team, making hits and running bases.
Choubah first worked with Sierra on cognition sequencing, like getting dressed. Using check-off lists and other visual supports, she went from burning bacon in a microwave to making an entire Shepard's pie. They meet weekly to continue progress in visual scanning, planning and sequencing skills so Sierra can manage a household safely, follow a budget and shop online successfully.
In June, Sierra fulfilled her goal of graduating high school with her twin sister. She will enter the University of Vermont Pathways program remotely this fall and is practicing driving.
"It's been amazing. It definitely is a miracle," Sierra says. "As time goes on, things are becoming easier for me."
Sierra and her family plan to start an organization to help families navigate TBIs, and are writing a book about her near-death experience. To track Sierra's continued progress, follow her family's Facebook page, Miracle for Sierra.