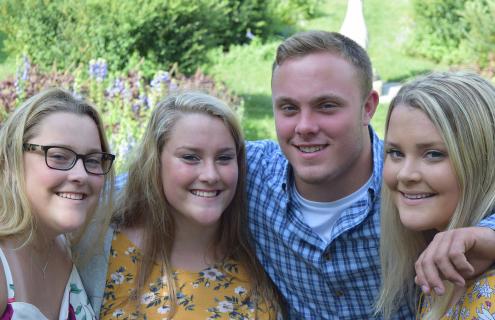 Lori McHugh felt lucky to be expecting a baby. She and her husband, Steven, had undergone the challenges of in vitro fertilization. They were down to her last two eggs when she became pregnant.
A few weeks into her pregnancy, they found out their luck had doubled—she was pregnant with fraternal twins. As they look forward to and prepared for two babies, an ultrasound in her twenty-first week, showed that they were expecting not two babies but four.
The sonographer doing the ultrasound turned white as the wall," Lori says, "and ran off to fetch the doctor." After the doctor closely examined the imaging, Lori recalls her saying she was "100 percent sure there are three babies, and 80 percent sure there are four."
That uncertainty was enough for the McHughs, of Somersworth, New Hampshire, to request a referral to Dartmouth-Hitchcock (D-H) for her prenatal care. They soon learned that Lori was carrying quadruplets, but not all identical. There were three girls and a boy, which meant that of those two fertilized eggs, one of them split not once, but twice. "Doctors told us it was some kind of medical record," Lori says.
Born prematurely at 30 weeks, the McHugh quadruplets—Ashley, Allie, Amelia and Anthony—spent many weeks in the Neonatal Intensive Care Unit (NICU) at the Children's Hospital at Dartmouth-Hitchcock (CHaD). Along with being premature, two of the babies had additional health challenges; one undergoing major tracheal reconstruction. Later, a case of premature retinopathy, would require eyeglasses for one baby, while another would be diagnosed with a paralyzed vocal chord.
As they were going home from the hospital, their care providers said they would need to see the quadruplets on a monthly basis for routine exams and vaccinations. Lori worried about having to make the nearly two-hour-long journey between Somersworth and Lebanon, NH, with four young babies. "And that's when they told me, 'No, we will bring the care to you.'  So a doctor and a nurse paid a visit each month, and I never had to leave my house. I never would have gotten that level of care anywhere else."
Today the "McHugh Quads," as they are known in their community, are finishing their senior year of high school. Throughout their childhood and adolescence, they have supported one another each stage of the way. Whether enduring a health-related challenge or first day of school jitters, says Amelia, "we never had to do anything alone. We've always had the security of each other."
"We're always there for one another," adds Allie, "and that is truly a blessing. I wouldn't know how life goes without my siblings in my life."
As each of them prepares to pursue their own passions and interests, and carve out their individual paths, Ashley says, "No matter where we go or what happens, our bond will never be broken. We care for each other very deeply and we'll always stay in touch."
Independence also means transitioning from the excellent pediatric care that their parents oversaw to their own adult care, a daunting path for anyone to navigate. But in part because of the health challenges they've faced over the years, the McHugh Quads feel prepared to assume responsibility for their care. "Knowing how hard it was at the start of our lives," Anthony says, "has a huge effect on decisions we make today."
And they give their parents credit for understanding their individual health histories. "Our parents have done a wonderful job educating us on our conditions and how much of a miracle we truly are," Amelia says.
"None of us would be where we are without them," says Allie. "They've taught us that it takes a lot for someone to be successful and to stay healthy, and that's all they want for us."
"I find that we continue to get closer as we are preparing to part our ways," says Amelia.
Adds Ashley, "I'm so curious to see what careers we pursue and where the road takes us."