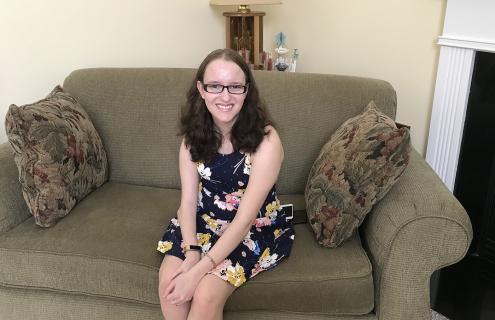 We couldn't have had a better team. They've all been wonderful. We are blessed.
Elaine Gilman
What does health mean to 19-year-old Hailey Gelinas? One hundred fifty seven days in the hospital in 2017. A week on life support. Two-and-a-half-years of dialysis. Two kidney transplants. An unwavering medical team. And, most importantly, one devoted grandmother.
Hailey was born at 27-weeks gestation at the Children's Hospital at Dartmouth-Hitchcock (CHaD), weighing two pounds, two ounces. As a result of twin-to-twin transfusion syndrome, she had only one minimally-functioning kidney, and her twin passed away before she was born.
Her grandmother, Elaine Gilman of New Boston, NH, became her guardian when she was 14-months old. "The doctors feared she would never walk, talk or eat, and would pass away by the age of two," she shares. "Now she's 19 and does a whole lot more. She's strong, she's brave and she's smart. It took a lot of determination, love and sacrifice."
At seven, Hailey received a donor kidney at CHaD from her uncle. For nearly 10 years, she did very well. Then the BK virus (a virus that is challenging for kidney transplant recipients) "woke up" in her system. This common childhood illness was dormant until a toothache in March 2017 helped her team discover she was in renal failure. Dialysis was required to remove toxins and fluid from her body.
Elaine was trained at Fresenius Dialysis Center in Lebanon, NH, to do home peritoneal dialysis using fluid placed in the abdomen. This worked for several months, punctuated
by 13 hospital admissions. Hailey ultimately required life support for a week, during which time the providers discovered she had absorbed 40 extra pounds of fluid. She had 24 hours of hemodialysis to remove it.
Later, after experiencing unstable blood pressures of 250/190 for weeks, it was necessary to remove most of Hailey's transplanted kidney.
Time for a new plan–and a new kidney
Once Hailey stabilized, the CHaD team tapped Pediatric Nephrologist Matthew M. Hand, DO, Dartmouth-Hitchcock (D-H) Manchester to transition Hailey to hemodialysis at DaVita Clinic in Bedford, NH. He credits the assistance of Adult Nephrologist Kevin B. Meyer, MD, D-H Manchester. "If it weren't for Kevin, I wouldn't have been able to dialyze her," Hand says. "Her grandmother also did an amazing job. She never had a single catheter infection."
Elaine and Hailey visited DaVita three days weekly for three hours each time. Her dietary restrictions included one liter of fluid daily and avoiding sodium, potassium and phosphorous, so foods like melon, broccoli, pasta and pizza were off-limits. She was finally healthy enough to join the national transplant list on November 12, 2018.
Hand's focus on integrative medicine—combining conventional medicine with exercise, mind-body therapies, acupuncture, nutrition and relaxation techniques—was key to Hailey's pain management. "Our whole focus was caring for her as a person," he says. Her abdominal pain was so severe—she couldn't function, so they worked on relaxation techniques and using peppermint oil.
Every patient has more wellness than they do disease, explains Hand. "I would tell Hailey, 'You are not your kidneys. What is your purpose in life?' She needed to find out who she is supposed to be."
Almost a year to the day after joining the transplant list, Hailey's transplant nurse called at 11:45 pm, saying they had a kidney and were planning surgery for 4 am. The kidney was anonymously donated by the family of a young woman who passed. Hailey was more excited than nervous.
The surgery was a success, and Hailey returned home on the sixth day. After being sick from March 2017 to November 2019, Elaine reports, "She's a different person."
Miracles happen 
Michael C. Chobanian, MD, medical director, Transplantation Surgery, Dartmouth-Hitchcock
Medical Center (DHMC), has treated Hailey since birth and was involved in both transplants.
He explains she had 99 percent antibodies against all other potential kidney donors in the U.S., and matching was very complex, involving Human Leukocyte Antigen (HLA) tissue typing and antibodies—not just blood type to find a compatible kidney.
"Getting called was like winning the lottery. It was a one in a million chance to get this kidney, and she had no antibodies to this donor," Chobanian says. "It's one of the most dramatic turnarounds ever, and one of the easiest transitions after a transplant ever. I would argue she has nearly 100 percent normal kidney function. You would have to consider it miraculous."
The national average for a transplanted kidney duration is 11 years, but Chobanian says the personalized care provided to CHaD patients increases it to at least 13 ½ years. "The way this donor matched, I predict Hailey's will last a lot longer," he says.
New lease on life 
Today, Hailey has fewer dietary restrictions; her hair has grown back long and curly after losing it during hemodialysis; she walks daily; uses her Wii and Fitbit; and wears sunscreen. She loves camping, going for rides, dancing and music, and her favorite song is Miley Cyrus's, "The Climb." She's even an honorary fire chief with the New Boston Fire Department.
"We couldn't have had a better team. They've all been wonderful. We are blessed," Elaine says. "We had death on our doorstep for so many years. I always thought I would outlive Hailey, but now I know she will outlive me. She's gone from a caterpillar in a cocoon into a beautiful butterfly."