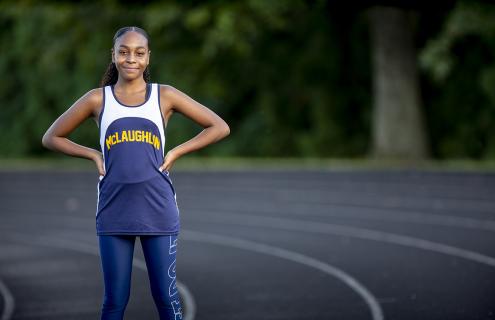 Twelve-year-old Alliyah St. Julus, of Manchester, NH, waited most of her sixth-grade year for the chance to try out for the track team. In April 2019, when her chance had come at last, her odds for making the cut seemed long-but not for ordinary reasons.
Alliyah was born with sickle cell anemia, a genetic condition in which normally round red blood cells are C-shaped (like sickles) and susceptible to clustering in the blood vessels, preventing blood and oxygen flow to the body and causing regular episodes of sharp, often debilitating pain. These episodes are commonly known as sickle cell crises, and they can last anywhere from a few hours to a few days.
"When I have a crisis, it feels like a shark biting into me," Alliyah says. "So terrible that I can't get comfortable. Standing hurts. Sitting or lying down hurts. Nothing helps until it passes."
On the first day of tryouts, Alliyah was running when she experienced another crisis. This time, the pain was focused in her knee and in her back, she says, and she had trouble breathing. "But I wasn't going to let the pain stop me. I came back for the next day of tryouts."
Alliyah's mother, Geralda Marcelin, knows how remarkable it is that her daughter is even running in the first place. When Alliyah was just 7-months-old and learning to crawl, she had her first sickle cell crisis. And episodes thereafter seemed to coincide with developmental milestones. "Every time she tried something new, like crawling or walking, she had a crisis," Geralda recalls. "And it would set her back. She would have to start all over."
Since her very beginning, Alliyah has been in the care of a large team of pediatric specialists at CHaD, with whom she has grown up and thinks of as a second family. The complex nature of her condition, requiring regular examinations and immunizations, means that Geralda is bringing Alliyah to CHaD every few months, if not more frequently.
Julie Kim, MD, PhD, in Pediatric Hematology, who has cared for Alliyah every step of the way, admires Alliyah's and her family's resilience. "They have always embraced the changes and made sure she stays active and keeps moving forward," Kim says.
Kim has also known about Alliyah's track-team aspirations, which raises some concerns—namely, the sickle cell symptoms that once confined Alliyah to a wheelchair for over a year.
Blood-flow shortage caused by sickle cell anemia can lead to bone degeneration, explaining the hip pain Alliyah began to feel when she turned 10. A treatment regimen that included medication, physical therapy and several months in a wheelchair did not crush her dreams of running.
"She doesn't complain. She's very responsible for her own care. She views it as her job, and has a drive to keep going," Kim says.
The key to progress and happiness, in spite of her condition, is maintaining balance. If she stays hydrated while exerting herself, adheres to medication and gets plenty of rest, according to Kim, Alliyah can enjoy an otherwise normal life.
Another member of Alliyah's care team, John Hollister, MD, in General Pediatrics, agrees, although he acknowledges that painful crises will follow her all her life. "But of all the kids I've met," he says, "she handles them with such amazing braveness that we all feel privileged to be able to take care of her."
The range of risks associated with sickle cell anemia, including hypertension and stroke, underscore how important it is that Alliyah, her family, care team, friends and school administrators are all communicative and cooperative.
Geralda feels at ease knowing that Alliyah's CHaD nurses are in regular contact with her teachers and school nurses. "Things I should be stressing about, I don't have to."
And now that Alliyah has made the track team, her coaches are seeing that she takes responsible care of herself. "They're making sure I don't get dehydrated and that I take breaks when I need to," she says.
She wants to run the 100-yard dash and compete in the high jump. The secret to her poise and determination, she says, is her family and her CHaD care team. "All my life they've kept me positive, and have always told me, "You're going to get through this."