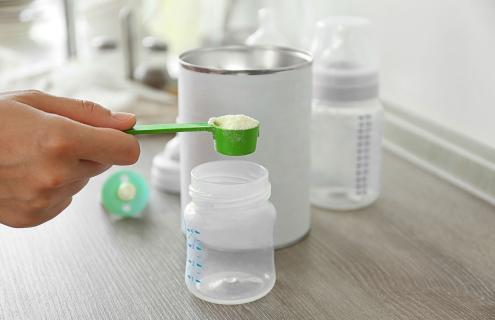 The United States has experienced a shortage in baby formula for months. Supply chain challenges created by the COVID-19 pandemic were the first major impact on formula manufacturing. A formula recall and related shutdown of a production facility in February have made it even harder for families to access their regular brand—causing them to scramble between in-person and online searches. With information changing rapidly, Dartmouth Health Children's providers are offering families guidelines to follow in partnership with the American Academy of Pediatrics (AAP).
For your baby's safety and health
Follow the "use by" date on formula containers.

Only use infant formula for babies younger than 1 year instead of toddler formula or plant-based or almond milks.

Avoid purchasing formula from international sources (which do not meet FDA standards).

Contact your pediatrician for support anytime!
It's ok to switch brands within formula types
While families may not have access to the formula they usually buy, there are other brand names and generic store brands that are approved by the U.S. Food and Drug Administration (FDA). It's safe to use another brand as long as it's the same type of formula.
"One of the most important things to know is that nearly all store brands are manufactured by the same company and just labeled for the individual store," explains Susanne E. Tanski, MD, MPH, section chief, Pediatrics, Dartmouth Health Children's. "So any of the store brands are identical and interchangeable by type, for example by regular, gentle, soy, sensitive or hypoallergenic. The quality and safety standards are strict, so these are safe and comparable to the brand name versions."
Some specialized prescription formulas, including extensively hydrolyzed and amino acid-based formulas, will not have store brand options. In these cases, Erik M. Shessler, MD, associate medical director for Dartmouth Health Children's and chapter president of the New Hampshire Pediatric Society, recommends families work with their pediatrician to access resources available in the local community or through formula companies.
Best practices for navigating the shortage
While it's tempting to buy in bulk when finding a shelf stocked with formula, the AAP recommends purchasing only a 10- to 14-day supply to lessen demand. Several major retailers already have quantity limits in place.
Remember that some drug stores and independent retailers may have formula in stock when national retailers are out. Buying formula online is another option—but only when purchased from pharmacies and distributors. Also, trusted social media groups are often helpful in sharing information on how to access formula locally.
Even when your supply is low, it's critical to not "stretch" formula by adding extra water. "The biggest risk for infants would likely be if families were to dilute the formula they have, which could lead to potentially dangerous salt level imbalances or poor growth," Shessler says. "Families should also avoid switching to a non FDA-approved brand or using homemade formulas, which have an increased risk for contamination and inappropriate ingredients."
Consider donating human milk
The Dartmouth Health Women's Health Resource Center in Lebanon is experiencing a very low supply of human donor milk. Human donor milk is available in certain situations by prescription for newborns only. Unfortunately, families in need of human milk are receiving less than they need—and many are even being turned away. If you're interested in donating, learn more about the process here and contact the Women's Health Resource Center at 603-650-2600 or whrc@hitchcock.org.