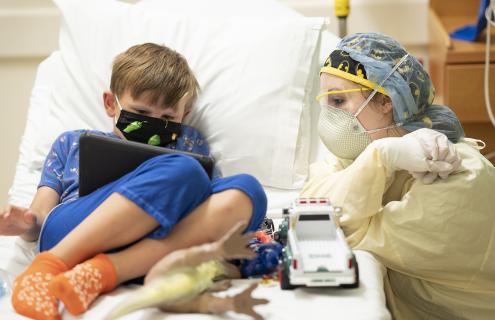 In March, a new reality set in across the country. Hospitals, including Dartmouth- Hitchcock (D-H), shifted resources and moved quickly to prepare to meet the anticipated surge of COVID-19 cases. At the same time, Children's Hospital at Dartmouth-Hitchcock (CHaD) Community Relations, faced with the possibility of canceling their annual CHaD Battle of the Badges hockey fundraiser, was pivoting as well. Changes were made quickly, and the game was played without an in-house audience to avoid crowds. Fans and patient ambassadors cheered from home while the game streamed live. The game was a success—even under challenging circumstances raising almost $200,000. The impact, however, was that without the game day purchases and celebrations, the fundraiser came in $60,000 below goal.
As time moved on and more was learned about COVID-19, D-H leadership made the difficult decision to cancel all in-person engagements, stewardship and fundraising events for the remainder of 2020. While the decision certainly will have an impact on philanthropy, reducing the transmission of COVID-19 by avoiding activities that involve large gatherings is paramount.
Despite the cancelations, the need for funding programs at CHaD does not cease. In 2019, nearly $3 million dollars was generated for CHaD programs through events like the football and baseball games, and those numbers will be severely impacted in 2020 due to COVID-19. Here is a look at some of the programs and how you can help.
CHaD Child Life
The CHaD Child Life Department provides developmentally appropriate support to our patients while they are in the hospital. This can include helping them understand a diagnosis, cope with medical procedures and therapeutic play. The program requiresmore than $300,000 annually in philanthropy, as many of its services are not billable or reimbursable through insurance programs.
"Our Child Life staff provides important support to our patients and their families, and we are grateful to all of the donors from our community," says Jennifer E. Rupp, supervisor, CHaD Child Life. "COVID-19 has presented some new and unique challenges for a very vulnerable population." During the pandemic, there is added anxiety that comes along with new hospital policies and procedures; for example, the friendly faces of providers they have come to know are now hidden behind a mask. Rupp recently worked with D-H's Creative Productions team to develop a reassuring video titled "Behind the Mask," to help prepare kids for this new normal before they arrive (you can view it on D-H's YouTube channel). This is just one of the adjustments made by CHaD's Child Life staff to help support kids during a very different hospital experience.
Child Advocacy and Protection Program (CAPP)
The Child Advocacy and Protection Program (CAPP) at CHaD evaluates and advocates for victims of child maltreatment. The staff provides both urgent and routine evaluations of children who are suspected victims of physical abuse, psychological/emotional abuse, sexual abuse and/or neglect in addition to other less common forms of child maltreatment. Services are located in both Lebanon and Manchester, NH.
"During the COVID-19 crisis, the DCYF [Division for Children, Youth and Families] report rate in New Hampshire has come down by 50 percent in New Hampshire," says Resmiye Oral, MD, director of CAPP. "The primary reason for this is because the schools, which file 70 to 80 percent of child abuse reports in Vermont and New Hampshire, were closed. There is no doubt in our minds that abuse, in fact, is increasing, and some cases may only come to daylight once the situation is over. We anticipate the need for additional support as these cases come to us."
As patients step off the elevator for their outpatient appointments at CHaD's main campus at Dartmouth-Hitchcock Medical Center (DHMC), one of the first things they see is a welcoming space known as Molly's Place. The cheerful décor, toys and play structure invite families to take advantage of what Molly's Place has to offer. "Connecting families with resources is what is at the heart of Molly's Place," says Kathy A. Stocker, program manager.
Funded entirely through philanthropy, Molly's Place offers families a lending library, gas vouchers, multi sport helmets and referrals to resources that are local to them. Recently they have piloted programs to distribute food to those in need as well as life vests and gunlocks to keep children safe. Due to COVID 19, the play space has had to close, but the resources and friendly faces are still there, helping to support families as they navigate not only the challenges that come from their child's health needs but other social factors related to the pandemic.
How you can help
There are several ways you can support fundraising at CHaD. Consider participating in one of our virtual events, such as the CHaD HERO (see box below for details). Or host your own fundraiser through our Hearts in Action program, which offers the tools and resources you need, including a dedicated fundraising page. You can also make a donation in support of a program or a general donation that we can direct where it is most needed. Visit www.chadkids.org for more information!
CHaD HERO
The 2020 CHaD HERO is going virtual! Choose from classic CHaD HERO activities like running, walking, hiking, or biking or do your own Virtual Quest activity—climb Mount Pierce, kayak on Squam Lake, do a read-a-thon, the sky's the limit! Complete your activity anytime, anywhere from October 4-18. The event format is different this year, but the mission remains the same: raise much-needed funds to support the kids and programs at CHaD. Register or learn more at chadhero.org.