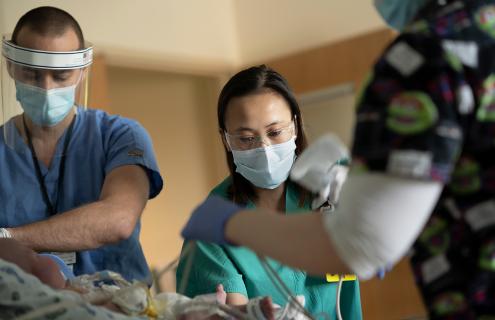 When a recent surge of respiratory syncytial virus (RSV) cases affected our region, Dartmouth Health Children's provided collaborative support as a leader in pediatric care throughout northern New England.
Each year, pediatricians expect the number of respiratory viruses, such as RSV or the flu, to rise slowly when the school year begins and winter approaches. But in the fall of 2022, the increase became a steep incline, raising the alarm for children's hospitals across the country. The growing number and severity of respiratory cases meant that more children would need hospital-based care.
At the onset of the COVID-19 pandemic, Dartmouth Health Children's worked closely with community hospitals and pediatric clinics in New Hampshire and Vermont on plans for possible patient surges. Thankfully, they did not have a surge in pediatric COVID-19 cases, but their plans provided a blueprint for future collaborative efforts.
As RSV cases moved north, Dartmouth Health Children's worked with children's hospitals across New England on plans for triaging patients and managing critical care beds. Matthew Braga, MD, section chief, Pediatric Critical Care, Children's Hospital at Dartmouth Hitchcock Medical Center (CHaD), and Samantha House, DO, section chief, Pediatric Hospital Medicine, CHaD, brought that information to state and local organizations to prepare for the likely rise in pediatric hospitalization in the region.
The rise in RSV cases was going to affect every part of patient care—clinics, emergency rooms and inpatient units. "We needed to focus on buffering our emergency departments and inpatient capacity. We did that by prioritizing severely ill patients and those who were at locations with limited pediatric resources," says House.
In recent years, many hospitals have moved away from having pediatric units and, instead, rely on regional children's hospitals like CHaD for advanced and inpatient care. Pediatric care requires specific needs, and hospitals without pediatric beds often lack the resources to support those needs. For hospitals with few or no dedicated pediatric units, the severity and volume of patients needing intensive care could be overwhelming.
Dartmouth Health Children's, New Hampshire's comprehensive pediatric delivery system, took the lead in providing education, support, supplies and mentorship to hospitals throughout the state to avoid that from happening. "We worked together to expand capabilities at each institution within the local community," says Braga. If they could bring each organization one notch above the care they would typically administer, it could keep critical care beds open at CHaD.
Our Dartmouth Health Children's staff provided targeted education around the management of respiratory viral illnesses, hydration practices and advanced levels of oxygen care. They gave lectures and training across the state and made sure equipment was available and accessible, refreshing staff on current best practices. "These efforts involved a lot of work by our respiratory therapists who did a lot of outreach, answered phone calls and performed reviews and assessments for equipment needs for multiple organizations," says Braga.
Each advanced capability required additional pediatric nursing, respiratory therapy care and monitoring. "Clinicians, nursing partners, respiratory partners and others took full advantage of this education. The outreach and participation was a multidisciplinary effort," says House.
Cheshire Medical Center (Cheshire) is the only other Dartmouth Health member in New Hampshire currently providing pediatric inpatient care. Therefore, they worked closely to manage coverage during the rise in respiratory cases. "We were closely aligned to see what patients we could treat here to reduce admissions at CHaD," says Gina O'Brien, MD, associate chief medical officer, Cheshire.
"We've always had an extremely tight relationship," adds Geraldine Rubin, MD, department chair for Pediatrics at Cheshire and Dartmouth Hitchcock Clinics Keene. "With this partnership, we were able to respond more rapidly and efficiently."
The Primary Care Committee brings together all the Dartmouth Health Children's general pediatrics practices to discuss best practice cases or events, like testing protocols or vaccine administration. "We have a very robust network at the primary care level. These networks helped us educate the community during this time," says House.
These partnerships provided a model for collaborating with other system member hospitals. "It's nice to have a unified front. Even though the approach at DHMC might not work at APD, we are the same group of providers focused on quality and patient safety," says Jennifer Pope, MD, medical director, for both the Emergency Departments at Alice Peck Day Memorial Hospital (APD) and Dartmouth Hitchcock Medical Center (DHMC).
If transportation was delayed or there was a difficult case, Dartmouth Health Children's provided phone and telemedicine support where needed, discussing alternatives for rerouting patients to places where they had support and resources until they could get to CHaD. "We had daily communications with Concord Hospital and Elliot Hospital regarding patients, bed availability and issues influencing patient care. It was a good way to keep a finger on the pulse of what was going on across the state," says House.
Using Dartmouth Health Children's policies as a guide, Cheshire and other community hospitals used the opportunity to establish new policies and processes that would help them care for a higher level of care in the future. "Because many community hospitals don't have pediatric units and specialty services are often not available, pediatricians have really paved the way for collaborative care within our system," says O'Brien.
"I'm really proud of all the collaborations we made across the state and getting to know the people who lead pediatric care throughout the state," says House. "Now we can make a strategic plan moving forward to prepare for the future."