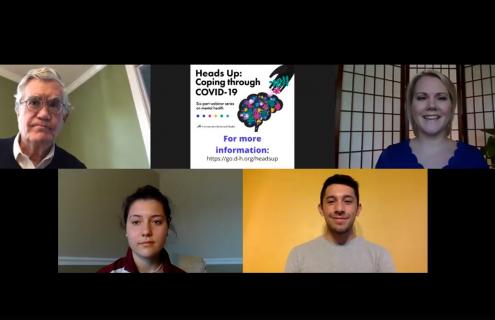 High school is typically the time children enjoy new freedoms, start working and make lasting friendships. Being out of the house—and away from parents—is the norm as teenagers assert their independence. The current stay-at-home restrictions due to COVID-19 have placed particular strain on high school students, as some of their freedoms have been significantly curbed.
To address the impact of social distancing on teens, the importance of mental health awareness and staying connected to friends, classmates and teammates, Dartmouth-Hitchcock (D-H) focused on high school students during the third installment of its "Heads Up: Coping through COVID-19" webinar series.
The event featured John Broderick, senior director of Public Affairs at D-H and former New Hampshire Supreme Court Chief Justice, and New Hampshire high school students Emily Galeva of Lebanon and Aron Silvestre of Goffstown.
Changes become challenging
Helpful Tips
Think of this time as an opportunity to try something new–think positively! It won't last forever.
Control your schedule to provide stability and reduce stress.
Get outside! Go for a walk, hike or work out.
Listen to new music or podcasts in your room. Keep a journal.
Get something to take care of, whether it's a plant or small pet.
Try to help someone else during this time

—

it will make you happy. Friends should reach out to each other and stay connected.
Spend less time on the internet and more with your parents. Talk to them, eat meals with them and learn from one another.
If you are struggling emotionally talk to someone

—a

parent, sibling or friend.
Gently remind kids there are online and telehealth counseling options for those that need to talk to someone neutral.
As part of his mission to advance mental health awareness among young people, Broderick has visited approximately 85,000 high school students across northern New England. He kicked off the webinar describing his experiences with this generation, noting that they're more structured, informed and interconnected than his generation was growing up. But he noted that one in five adolescents have a mental health problem, typically anxiety or depression, or a combination of the two.
"I worry about them at times, and in the middle of a pandemic, where all of us are feeling a little isolated and alone, I think those who might have a mental health problem need to be more attentive to it and more focused on it, and to be able to talk about it more," Broderick said.
The students on the panel then discussed the challenges they've experienced due to the pandemic. Galeva said the three things she's found most difficult are staying positive and motivated, getting used to being away from her friends and finding things to do.  
Silvestre agreed that feeling stuck in the house has been hardest, in addition to trying to create a new schedule. "Before, everything was planned out for me in my day. Waking up, going to school, after school program, homework, social time, and then bed and repeat," he explained. "And that was the life that I think a lot of us were used to. But right now, the hardest adjustment has to be creating this new schedule of this new life that we all have to endure."
Teenagers are also spending more time on social media, which can be detrimental to self-esteem. Celebrity social media accounts can influence unrealistic expectations kids create for themselves. Those struggling with anxiety or depression are more isolated and unable to benefit from in-person peer contact.
Healthy solutions
As part of this series, viewers are able to submit questions and ask presenters for advice. Broderick addressed one student who was experiencing emotional challenges even before COVID-19.
"Well, first thing I would say to them is don't be too hard on yourself. This is a hard time for everyone. But if you were having problems before, this might well make it worse. And my first thought would be share it with your friends online, people you trust, people you can talk to. Maybe share it with your parents or a sibling. Talk to someone," Broderick replied. "You're also able to reach out to the school and the counselors, who I'm sure would be happy to continue discussions with you. The only mistake you can make, if you're feeling different than you'd like, is to keep it to yourself. So you need to reach out and talk to someone."
Parents should also watch for signs of emotional distress and mood changes, and offer available online and telehealth counseling opportunities to their children. Teens can boost their moods by doing something thoughtful for another teen or adult. The act of helping someone else is profoundly positive for mental health. 

The panel provided a variety of solutions for teenagers navigating stay-at-home orders. Thinking positively, reaching out to friends, trying a new activity or hobby, journaling, listening to new music or podcasts, and even getting a plant to care for made their list of recommendations. Scheduling outdoor and/or exercise time, along with dedicated family time, were also discussed.
Panelists also focused on the unique opportunity offered by the pandemic to learn more about–and from–parents. Teens should try shifting negative thoughts about being stuck at home, to positive ones about the benefits of becoming closer to family–and be grateful for this temporary situation.
To view the webinar in its entirety, visit D-H's Facebook page or YouTube channel. Details about the webinar series can be found at https://go.d-h.org/headsup.