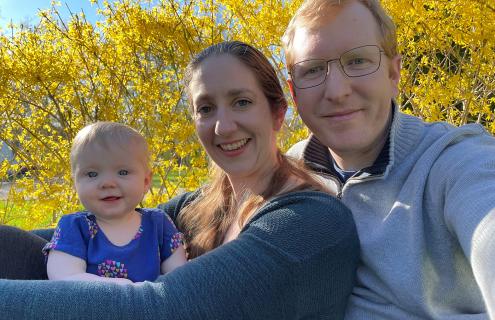 When Margaret "Meg" Crary-Burney and Charles "Charlie" Burney of Windsor, Vermont found out they were expecting a baby in 2019, they registered for the CenteringPregnancy® prenatal instruction and monitoring program at Dartmouth-Hitchcock Medical Center's (DHMC) Women's Health Resource Center (WHRC). They had participated in CenteringPregnancy—with other couples due to have babies the same month—earlier that year. Sadly, they were at a CenteringPregnancy meeting when they discovered their baby at 18 weeks no longer had a heartbeat. The couple was brought to DHMC, where Meg was cared for during the miscarriage. They later joined a WHRC-sponsored perinatal loss support group.
With this pregnancy, Meg and Charlie were excited to join a CenteringPregnancy group again, only to just meet three times before COVID-19 forced its closure. "We will make it through CenteringPregnancy eventually!"                                                                                                                                               
Midwives Laurie A. Foster, MSN, CNM, and Anna C. Childs, MSN, CNM, supported the couple throughout the pregnancy, mostly seeing them for appointments at Alice Peck Day Memorial Hospital (APD) instead of at DHMC to reduce COVID-19 exposure risk. Meg had extra ultrasounds to monitor the baby's progress and provide the couple peace of mind. They also had access to online birthing classes and breathing exercise tutorials.
Unusual circumstances, supportive delivery
Charlie is a general surgery and preventive medicine resident at DHMC, and Meg is a veterinarian. While confident they would be well cared for during the baby's DHMC delivery, as the due date approached last summer, they weren't sure whether restrictions would be eased so Charlie could be present for the birth.
Happily, before their baby's arrival, DHMC transitioned to allowing one support person during delivery. "I was very thankful to be there, and everyone was supportive," Charlie says. "Everyone made an effort to normalize the process, and everything was on the table: use of the hot tub, birthing balls, etc."

At 41 weeks, Meg was scheduled to have her labor induced at 5 pm on July 31. She and Charlie quarantined at home beforehand, but Meg opted to take a rapid COVID-19 test upon their arrival to make sure the medical staff was safe.
After eight hours of labor and 20 minutes of pushing, Josephine "Josie" Burney was born on August 1 at 2:28 am to her overjoyed parents. While visitors were not allowed, Meg's parents quarantined for two weeks prior to Josie's birth. In a single day, they drove 14 hours from Michigan and waited to meet their first grandchild when she arrived home. 
"It definitely was not what I expected because of COVID-19. But given the experiences I heard about in New York City, it was a lot better than what I thought it might be," Meg explains. "I was prepared to be there by myself. The fact that Charlie was able to be there was great."