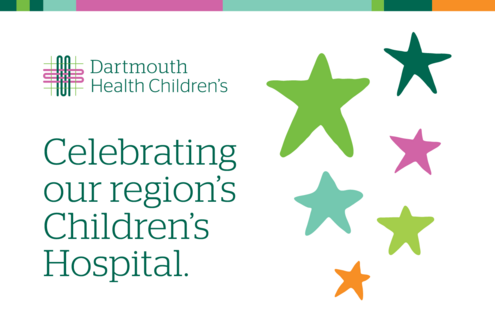 It's been more than three decades since New Hampshire's only children's hospital was officially approved to operate within the then-newly constructed Dartmouth Hitchcock Medical Center (DHMC) in Lebanon. On June 20, 1992, a kick-off celebration marked the decision by the National Association of Children's Hospitals and Related Institutions (NACHRI, now the Children's Hospital Association) that made the Children's Hospital at DHMC (CHaD) possible.
The foundation of CHaD
CHaD is deeply woven into the community with a reputation for providing high-quality healthcare to children close to home. Along with popular fundraising events like the CHaD HERO and the Battle of the Badges hockey and baseball championships, it may be difficult to remember a time before CHaD was here.
"The support of the community has allowed us to grow CHaD and extend its services statewide so we can be extremely patient-centered, in (and of) the local community and a treasured New Hampshire resource," says Keith J. Loud, MD, MSc, physician in chief of Dartmouth Health Children's. "While we officially turn 30 in 2022, the hospital and region have a long history in pediatrics that led up to its creation."
In 1893, the first patient at Mary Hitchcock Memorial Hospital (MHMH) in Hanover was a pediatric patient: a 13-year-old girl treated for a hip condition. In 1938, New Hampshire's first pediatrician, Franklin N. Rogers, MD, founded the New Hampshire Pediatric Society with Colin Stewart, MD, a Dartmouth College graduate and Dartmouth Medical School attendee.
Over the following decades, medical care for children was often regionally based, but providers would travel and support patients—and each other. For example, Richard Waters, MD, was the first pediatric cardiologist in the state. He practiced at MHMH from 1966 to 1988 and would travel to children in Manchester, the Seacoast and in rural areas of the state. Waters recruited Sol Rockenmacher, MD, to work with him and serve patients in the Manchester area. Other MHMH providers regularly traveled to rural towns in northern New Hampshire to hold well-child clinics.
MHMH became known for its forward-thinking collaborations with—and recruitment of—specialty care providers for children, including in Neurology, Nephrology and Allergy. The future development of CHaD was secured when Saul Blatman, MD, was recruited from New York City as the founding chair of the Department of Maternal and Child Health in 1972. This department included both pediatrics and obstetrics and gynecology.
Blatman, in turn, brought in several providers who would shape the hospital's future, including Pediatrician George Little, MD, active emeritus professor of Pediatrics and Obstetrics and Gynecology at the Geisel School of Medicine at Dartmouth and CHaD's first chair of Pediatrics—widely regarded as the "Father of CHaD." Little was tasked with creating a Neonatology Unit in 1972 and credits Dartmouth's return to awarding medical degrees that year (after decades of offering a two-year program that required students to graduate from other medical schools), along with Blatman's leadership of the Maternal and Child Health team, with providing the perfect foundation for CHaD.
Little became the chair of the Department of Maternal and Child Health in 1978 and started planning in 1980 for comprehensive women's and pediatric care—which opened at DHMC in 1991. The idea was to create a rural children's "hospital within a hospital," unlike many standalone hospitals in urban areas.
"For CHaD to be a success, we needed to have a hospital and medical school—Dartmouth—on board. NACHRI's criteria included evidence of a commitment to medical education, including residency and fellowship programs and research. It also required governance with a pediatric department chair equal to other academic departments, and a development process to support funding," Little explains. "It really was a team effort among the Pediatric Department, the nurses in Obstetrics and Neonatal care and MHMH's board of trustees—including Trustee Posey Fowler and then MHMH President James W. Varnum who both advocated consistently for CHaD."
Creating CHaD
Pam Thompson, MS, RN, FAAN, was the nurse leader known as the "Mother of CHaD." She served as vice president of Nursing for Maternal and Child Health and worked closely with Little to manage the criteria for designing a "children's hospital within a hospital." This included envisioning the need for a Pediatric Intensive Care Unit (PICU), which wouldn't open until the completion of DHMC in October 1991 (except for a temporary four-bed unit at MHMH). Their work also included planning for an expanded Neonatal Intensive Care Unit (NICU).
"George set up the NICU separate from an adult ICU. His innovation in moving the care of newborns to their own specialized unit is internationally recognized," Thompson says. "Once we decided to open CHaD, we never stopped. The joint vision and support of the pediatricians, neonatologists, nurses and the administration made it a success."
Sharon Brown served as an administrative leader in the outpatient department during CHaD's development and was eventually named director of CHaD Community Relations. She is credited with growing community recognition and support of CHaD, especially through its major fundraising events.
In the mid-1980s, Brown was part of the planning group that developed broader pediatric specialty services, including cardiology, neurology, cancer and surgery. Once CHaD launched in 1992, some of those services expanded to Dartmouth Hitchcock Clinic Manchester, which helped integrate care in southern New Hampshire.
"June 20, 1992, was when the heavy lifting began. We were designated a children's hospital and had to determine what that meant across departments: even menus had to change," Brown says. "We added liaisons in every department to better serve children and included quality improvement and safety standards, which are now part of CHaD's culture. Everyone's commitment and passion were incredible."
A bright future
Today, CHaD and Dartmouth Health Children's have grown to offer primary, intensive, trauma and specialty care statewide, and CHaD  is the only pediatric trauma center in New Hampshire accredited by the American College of Surgeons. The CHaD team looks forward to continuing its personalized care for each patient.
"We will continue to monitor the needs of the population and address them as they arise. Technology will enhance that ability," Loud explains. "We already plan to expand behavioral and mental health care and provide more opportunities for telehealth services—and foresee a new NICU and an improved pediatric care space at CHaD."
To learn more about CHaD, visit the Dartmouth Health Children's website.