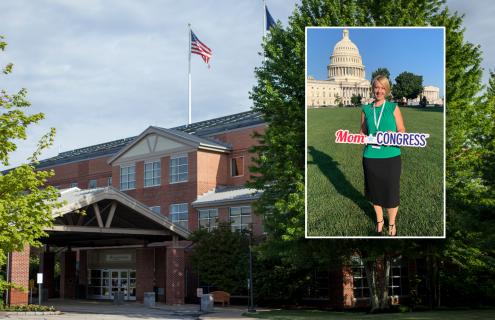 It's so incredibly important for moms and everyone who support moms to stand up and be heard.
Heather Ann Martin, RMA, PFP
A Dartmouth Health Children's employee recently represented New Hampshire at a national conference advocating for policy issues impacting mothers in the United States. Heather Ann Martin, RMA, PFP, a medical assistant and maternal mental health advocate who works in pediatrics at Dartmouth Hitchcock Clinics Manchester, served as a delegate to the 2022 Mom Congress Convention in Washington, D.C., from September 18-20. The convention, which was the first held in person since before the COVID-19 pandemic, brought together mothers and advocates from around the nation to learn, receive issue and advocacy training, be inspired by influential leaders, connect with others, and advocate for change in policy impacting moms on Capitol Hill.
"Dartmouth Health Children's sent me as a representative to this year's Mom Congress Convention because of my work to promote mental healthcare for new mothers at our clinic in Manchester," Martin, a Salem resident, said. "Maternal mental health was one of the key issues of this year's conference, so I was very excited and proud to share what we have done and advocate for what I believe is the most important issue impacting moms today."
A tragedy in Martin's own family spurred her to advocacy. Thirteen years ago, her sister died by suicide just three weeks after the birth of her first child, after developing postpartum psychosis. Tragic deaths like Martin's sister's are, disturbingly, becoming more common: recently published data from the Centers for Disease Control and Prevention shows four out of five deaths in pregnant women and new mothers in the U.S. are preventable, with mental health conditions being the leading cause of pregnancy-related deaths.
In 2019, Martin proposed the creation of a mental health screening process for mothers during newborn checkups at the Manchester clinic's pediatric practice, involving a questionnaire on a secure tablet for the baby's pediatrician to review. If the screening results are positive for postpartum depression, the pediatrician starts a conversation with the mother, asking if she has contacted her OB/GYN or primary care provider, and whether she has a mental health provider. The screening process was adopted in January 2020 and has been in place since in Manchester.
"This initiative has been critical to improving patient care," Martin said. "By doing these screenings, we can connect moms with mental health resources and postpartum groups to help them through their postpartum period, and also help prevent maternal suicide."
Martin's advocacy work has also included testifying at the State House in Concord, and being named the 2020 Mom Ambassador of the Year in 2021. At the Mom Congress Convention, Martin led a group of advocates from multiple states, meeting with staff for U.S. Sen. Maggie Hassan (D-NH), who introduced the TRIUMPH for New Moms Act last year.
"Your voices do work," Martin said. "Without your voice, the lawmakers voting on these critical measures don't know why bills are put before them, but if they know your story, they will. That's why it's so incredibly important for moms and everyone who support moms to stand up and be heard."
Martin was able to share with other delegates about her advocacy and work with Dartmouth Health Children's, inspiring others as well as learning from their work in other parts of the country and areas impacting maternal health and wellness.
"Mom Congress member team leaders like Heather Martin, who have established relationships with their legislators' offices and have the support of their employer, are vital to the continued success of Mom Congress moving valuable legislation to support mothers and families," said Crystal McAuley, community director for Mom Congress.
Martin expressed her gratitude for her employer's support for her mission to improve mental health outcomes for moms.
"They saw what I see daily, and that what I do to help moms in the pediatric setting makes a difference," she said. "Our providers and the moms who come to our clinic are so happy that we've implemented the screening process. Many of the advocates I met in D.C. who work in healthcare were interested in starting something similar at their workplace, too. I'm proud to be part of a larger effort to help women and their families."
To learn more about Mom Congress, visit https://www.mom-congress.com/.
About CHaD
As New Hampshire's only full-service, comprehensive children's hospital, the Children's Hospital at Dartmouth‐Hitchcock (CHaD) is committed to providing outstanding compassionate care for children and their families. Their physician expertise provides primary, specialty, and tertiary care to the children of New Hampshire, Vermont, and beyond. CHaD offers inpatient (hospital care) and outpatient (same day care) services at Dartmouth‐Hitchcock Medical Center in Lebanon, NH. Outpatient and same-day surgery services are available at Dartmouth‐Hitchcock Manchester. Primary care is available at Dartmouth‐Hitchcock facilities in Bedford, Concord, Keene, Lebanon, Manchester, and Nashua, NH, and Bennington, VT. For more information about CHaD, please visit childrens.dartmouth-health.org or contact us at 603-650‐KIDS or chad.community.relations@hitchcock.org.