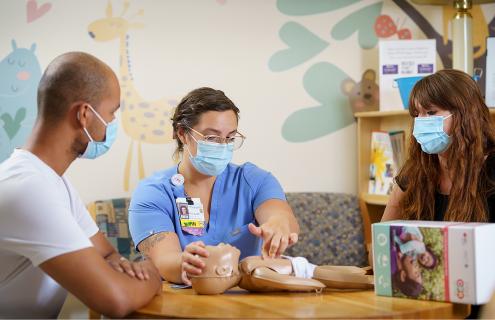 Learning CPR is one of the most important things all of us can do. You never know when a hero may be needed.
Lauren G. Gilstrap, MD, MPH
The intensive care nursery (ICN) at Children's Hospital at Dartmouth Hitchcock Medical Center (CHaD), New Hampshire's only children's hospital, recently received a donation of 500 Infant CPR Anytime kits from the American Heart Association (AHA), funded by the Anthem Blue Cross and Blue Shield Foundation. The kits contain tools to help new parents learn the lifesaving skills of infant CPR and infant choking relief in as little as 20 minutes and are being distributed to families being discharged from the ICN.
"Families have endured an often long journey while in the neonatal intensive care unit (NICU)," said nurse manager Tammy I. Lambert, MSN, RNC-NIC, who submitted the request to AHA on behalf of CHaD for the kits to be donated. "Learning CPR is one of the stepping stones to going home, so they are eager to learn this important skill for the well-being and safety of their baby."
Infant CPR Anytime kits include a self-directed, personal learning program that allows the user to practice on a manikin while observing a demonstration of the skills in a video. Skills may be refreshed as often as needed, and the kit can be shared with friends, family and childcare providers. A bilingual English and Spanish DVD and user guide come with every kit.
"Learning CPR is one of the most important things all of us can do. You never know when a hero may be needed," said Lauren G. Gilstrap, MD, MPH, a cardiologist at the Heart & Vascular Center at Dartmouth Hitchcock Medical Center. "These training kits will allow parents to feel confident and empowered to perform CPR successfully should an emergency occur with their child."
Brynne Salmon, an Ashland, NH, resident, knows all too well the value of these kits. Two of her three children were "micro-preemies" who were treated at the CHaD NICU, born at 25 and 28 weeks gestational age, and both have required CPR: her son, who was in the NICU for 94 days, needed CPR about a month after coming home after he stopped breathing, and her daughter, who has epilepsy, required CPR when she stopped breathing after a seizure.
"I'm so excited that CHaD families will have the resources provided by Infant CPR Anytime kits at home and at their fingertips at any time," Salmon said. "My husband is a police officer, so he is trained in CPR, and I had learned CPR when my children were babies, but my skills got rusty, which can happen to anyone. It's great for parents to have these kits because you never expect this will happen, and being able to practice CPR anytime you feel you need a refresher may save the life of your child."
"Any new parent wants to be sure they are doing all they can to raise a healthy, happy child. Helping parents learn the lifesaving techniques of infant CPR is one more way Anthem Blue Cross and Blue Shield is helping new parents and creating a healthier future here in New Hampshire," said Richard Lafleur, MD, FACP, medical director for Anthem Blue Cross and Blue Shield in New Hampshire. "When more people know how to and are willing to perform CPR–particularly on infants–more lives will be saved."
For more information on the Infant CPR Anytime kits, visit https://cpr.heart.org/en/courses/infant-cpr-anytime-training-kits.
About CHaD
As New Hampshire's only full-service, comprehensive children's hospital, the Children's Hospital at Dartmouth‐Hitchcock (CHaD) is committed to providing outstanding compassionate care for children and their families. Their physician expertise provides primary, specialty, and tertiary care to the children of New Hampshire, Vermont, and beyond. CHaD offers inpatient (hospital care) and outpatient (same day care) services at Dartmouth‐Hitchcock Medical Center in Lebanon, NH. Outpatient and same-day surgery services are available at Dartmouth‐Hitchcock Manchester. Primary care is available at Dartmouth‐Hitchcock facilities in Bedford, Concord, Keene, Lebanon, Manchester, and Nashua, NH, and Bennington, VT. For more information about CHaD, please visit childrens.dartmouth-health.org or contact us at 603-650‐KIDS or chad.community.relations@hitchcock.org.