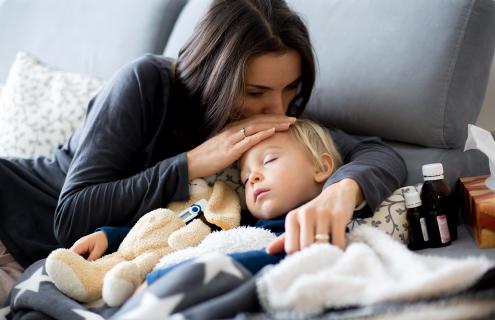 Respiratory Syncytial Virus (RSV) is a common virus, affecting the airway and lungs, which is seen in high volumes most winters. While RSV is a common virus, many hospitals and emergency rooms across the country are experiencing a much higher number of children needing special care.
"Dartmouth Health Children's is leading efforts to make sure community hospitals in New Hampshire and Vermont feel prepared to meet the needs of our local patients," said Keith J. Loud, MD, physician-in-chief at Dartmouth Health Children's. "We are offering educational sessions to centers that care for children and are focusing on advice for some of the worst conditions they may see. In addition to education, we are including lists of special equipment needs to help care for patients, so it is available when needed. We are working closely every day with other hospitals who care for children to have patients cared for closest to home at a hospital that can provide the right level of care needed."
The virus causes mild illness in most children and adults, causing cold-like symptoms and possibly some wheezing and coughing. In children ages 0 - 5, mucous production for the virus can plug lower airways and cause some breathing difficulties such as breathing fast, working hard to breathe, or tiring easily. If this is the case, parents and caregivers should contact their pediatrician for advice. In the case of a clear emergency, children should be taken to the closest ER.
Treatment of the worst cases of RSV may require patients to receive some oxygen support, fluid injected into a vein to prevent or treat dehydration, and monitoring so doctors can tell if a patient is improving or needs more care.
"Dartmouth Health Children's expanded our ability to see sick patients by opening additional clinic appointments and creating new inpatient spaces at the Children's Hospital at Dartmouth Hitchcock Medical Center in Lebanon to accommodate the sickest children who need hospital care," continued Loud.
What can parents and caregivers do to keep children healthy?
To support efforts to keep children healthy, Dartmouth Health Children's ask everyone to do the following to avoid the spread of respiratory illnesses:
Stay home when you are sick.
Avoid being near people who are sick.
Wash hands with soap and water for at least 20 seconds.
Clean often touched surfaces such as door knobs.
Recommend that children over 6 months of age are fully vaccinated for the flu and COVID-19.
For more information about RSV, please refer to our RSV Information web page.
About Dartmouth Health Children's
Dartmouth Health Children's is the only comprehensive pediatric healthcare system in the region. Fully integrated in Dartmouth Health and anchored for more than 30 years by Children's Hospital at Dartmouth Hitchcock Medical Center (CHaD)—in Lebanon, NH—Dartmouth Health Children's promotes health, advances knowledge, and delivers the best patient and family-centered care for infants, children, and adolescents across New Hampshire and Vermont. Dartmouth Health Children's conducts groundbreaking research and educates the next generations of health professionals as the primary pediatric partner of the Geisel School of Medicine at Dartmouth. Highly skilled and collaborative child health professionals provide care in multiple settings across the region. Outpatient specialty visits and same-day surgery services are available at Children's Hospital at Dartmouth Hitchcock Medical Center (CHaD) and Dartmouth Hitchcock Clinics Manchester. Primary care appointments in general pediatrics are available at Dartmouth Hitchcock Clinics in Bedford, Concord, Lebanon, Manchester and Nashua, NH and Bennington, VT; as well as at Dartmouth Health members: Alice Peck Day Memorial Hospital, Cheshire Medical Center, New London Hospital and Mt. Ascutney Hospital and Health Center.