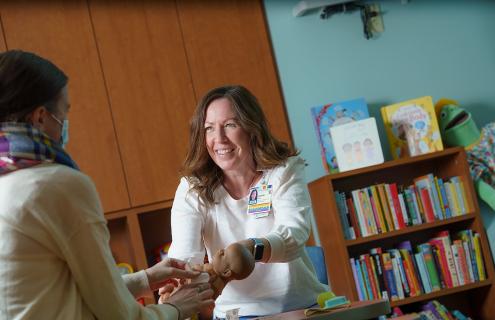 For some children, the sensation of a cold blood pressure cuff pressing into their skin can feel as frightening as getting a shot. So what happens when their illness or injury calls for a more invasive procedure or complex care? Child life specialists help ease these anxieties through education and play.
What is a child life specialist?
A child life specialist is a certified professional with a background in child psychology or development who provides emotional support and education to children—and their families about their illnesses or procedures they may need. 
When a child is diagnosed with a chronic disease, they need help coping with the sudden changes that can bring, like missing school, being separa
ted from family and friends or learning how to monitor their own health. Child life specialists are a source of support to help understand the care they need and provide information to parents or siblings who may not understand why their lives have suddenly changed as well. 
"We help them understand and process what it means to have a chronic illness, and provide a lot of procedural support like helping them prepare for anesthesia induction, having a CT (computerized tomography) scan or getting an infusion—or even something like how to swallow a pill" says Sonya Charles, MS, CCLS, child life specialist in the Community Group Practice (CGP).
The support they provide depends on a child's age, development level, personality or other factors that affect the way a child learns. "A lot of what we do is through therapeutic play. That's how children develop and master certain skills," says Jennifer Rupp, MS, CCLS, program supervisor of the Child Life Program at Children's Hospital at Dartmouth-Hitchcock (CHaD). They use toys like teddy bears to familiarize children with the equipment they might use and demonstrate the experiences that may happen as part of their care, like getting an IV. "It helps them see the processes in a safer, less scary way," says Rupp.
It's also through play that the specialists develop relationships with their patients. Prior to a procedure, they spend time playing with their patients, helping to ease anxiety and as a teaching moment for what to expect. "We want to create a sense of safety and comfort in the environment, and we do that through play," says Charles. "When we establish 'the clinic or hospital room as a safe place, they associate it with something more positive than the harder stuff they are going through."
Child life specialists advocate for parents to be with their child during a procedure when possible, and if it's not possible, the child life specialist can be there instead. "We want to give children and their caregivers some control. We work with them on a coping plan that might include relaxation techniques or watching their favorite movie during a procedure," says Rupp. "We let them guide us to what they know would work best for their child."
"We strive to help children build coping skills that set them up for success. That way, if they need further care or transition to adulthood, they become less reliant on us and can pull out the tools we've taught them and say, 'I got this.'" says Charles.
Other support
"There can be many disciplines involved in a patient's care, so it's important to make sure communication is strong," says Rupp, especially when a child needs care in a department that isn't specific to pediatric patients. "We do a lot of education around the hospital talking about how children cope, and what's best for specific ages."
Child life specialists also provide bereavement support for siblings or children whose parents have a terminal illness, helping them process the trauma of losing a loved one. There is also support for adults dealing with a new diagnosis who may want support explaining their illness or condition to their children. "The role of child life specialist is to help prepare and support children for what to expect," says Rupp.
Child Life working through the pandemic
Rupp says working with siblings who could no longer be present for their sibling's care was challenging. Telehealth options have made it possible for specialists to show their sibling receiving care, which can be a huge relief for them. "Seeing the hospital setting is better for kids because it becomes less scary compared to their imagination," says Rupp.
Connecting virtually also saves families from having to make multiple time-consuming trips and missing work or school.
During the height of the pandemic, the Child Life Program created resources to help parents talk to children about COVID-19 and what to expect when they came in for appointments—like having to wear masks or seeing providers in safety goggles.
Child life specialists at CHaD
There are currently 11 child life specialists working at CHaD, nine are located in Lebanon, and two work in the Community Group Practice, serving the Manchester, Concord and Nashua locations.
Child life specialists are assigned to a clinic, but they can help wherever needed. At the beginning of the day, they determine what patients might need their assistance—they could be new or returning patients. Providers can also refer their patients to the program or at any moment, they can be paged to assist where needed.
Working with kids who are dealing with sad, angry and under a lot of stress can be hard. But the Child Life team leans on each other to help alleviate some of the emotional demands. "We discuss and debrief on cases together, and last year one of our team goals was self-care. Each specialist presented on different self-care techniques," says Rupp. "We do a good job helping and taking care of each other."