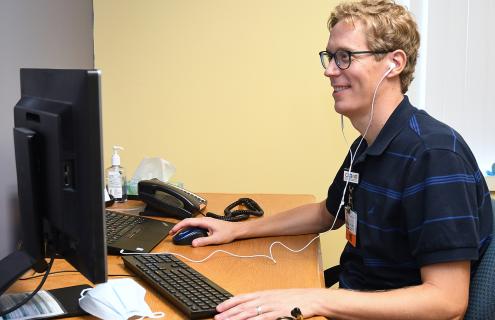 Pediatricians get so much information just looking at a patient, so we achieve more through telehealth than you imagine.
Erik M. Shessler, MD
As the mom of a medically-fragile child, Rebecca Searles spends a lot of time on doctor appointments. "Driving included, an appointment at the Children's Hospital at Dartmouth-Hitchcock (CHaD) in Manchester [NH] takes an hour and a half out of our day," says Searles. "When eight of my son's doctor visits were postponed by the COVID-19 shutdown, telehealth appointments were suggested. We said, 'Sign us up!'"
Twenty-minute telehealth appointments are saving the Searles family time, money and gas. "I have more time for clients—time is money—and my son doesn't lose school time," says Searles, a social worker. Telehealth also keeps Searles' son out of physicians' offices and the Emergency Room (ER), a huge benefit even outside of a pandemic.
But can appointments carried out via remote video deliver the high-level care patients expect? When used for the right type of visits, the answer is yes.
"Pediatricians get so much information just looking at a patient, so we achieve more through telehealth than you imagine," says Erik M. Shessler, MD, associate medical director, CHaD in Manchester, NH. "Rashes, range of motion, even throats can be examined by video. Telehealth is great for developmental screening too. Kids are comfortable at home with their own toys, so we don't have to work around office shyness or anxiety to watch them move or get them to stack blocks."
There are, of course, situations that call for an office visit. "Physical examinations that require the laying on of hands, stethoscope or instrument need to be done in-person," says Catherine D. Shubkin, MD, CHaD, who focuses on adolescent medicine. "First visits and establishing rapport are easier in person. And, there are times when patients need to have deeper, private conversations and really want face-to-face interaction."
Telehealth and myD-H
In addition to delivering the telehealth application and providing instructions for its download and use, the myD-H patient portal (mydh.org/portal/):
Provides access to questionnaires and screening tools to complete before appointments, leaving more time to talk.

Explains how to share photos when video imagery isn't clear enough.

Contains test results and information shared during previous visits.

Gives reminders to schedule telehealth visits to make sure that routine, but essential, appointments are made and kept.
Shessler is finding that telehealth is particularly productive for routine visits like attention-deficit/hyperactivity disorder (ADHD) medication checks. Telehealth visits can also provide faster, sometimes more thorough, answers for patients and parents who typically phone the physician's office with questions. "One weekend—things always come up on the weekend—we had a question and couldn't tell if it was a big deal or not," says Searles. "We got a text with a link to a telehealth call. The doctor could see my son and was able to assess the situation, answer our question and keep us out of the ER."
Telehealth sessions rely on high-bandwidth internet connections. Scheduling and sessions are accessible either through the myD-H patient portal, which provides access to a downloadable application and instructions for use, or a text link sent by a physician.
Shessler recommends a quick test before the patient's first telehealth session. "It's good to make sure the app is properly downloaded, and a connection can be made," says Shessler. "Find the place in your home that offers the best connectivity, quiet and privacy. Be sure to think about the background and environment. Remember, your physician will see everything behind you!"
"We're big fans of telehealth," says Searles. "Our visits are in-depth and never seem rushed. And having a doctor at your fingertips? That's pretty great."