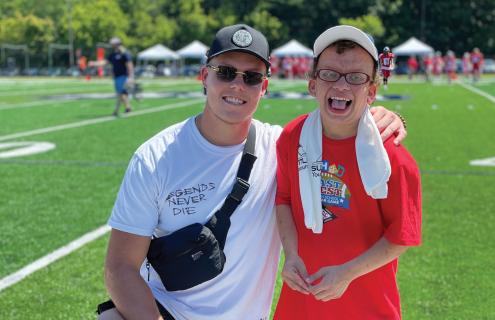 On Saturday, June 25, the CHaD All-Star Football Game celebrated 10 years of raising money for Dartmouth Health Children's. By the end of a toasty afternoon, Team West ran its way to another victory while more than $238,000 was generated through sponsorships, donations and player fundraising in the annual East vs. West showdown.
CLICK HERE TO WATCH A REPLAY OF THE GAME!
The anniversary edition of the contest once again saw dozens of business score a touchdown for programs at Dartmouth Health Children's, including Kristin's Gift Endowment Fund for kids and families fighting cancer.
The sponsorship effort was led as always by our presenting partners, Bedford and Nashua Ambulatory Surgical Centers, and their leader and our game founder, Nick Vailas. The dedicated team partners returned with AutoFair supporting Team West and New Hampshire Steel Fabricators backing Team East, and both teams were sporting the latest uniforms courtesy of Nike. Northeast Delta Dental, Jewett Construction, Image First, Amoskeag Beverages, Longchamps Electrics, and Harvey Construction joined nearly 60 total business pledging support for the game. This includes Summit Title Services, which provided 250 fans with cooling towels on a day when the mercury pushed close to ninety degrees!
Click here to see photos of the game!
As always, players had a big role in the fundraising effort, voluntarily raising tens of thousands for the cause. East won the fundraising battle with nearly $40,000 raised as a team. West's players tallied almost $27,000, led by the game's top fundraiser, Myles Rheinhardt of Bow High School.
Team East's fundraising efforts were topped off the day before the game by a special guest at the CHaD All-Star player banquet. Miami Dolphins tight end Hunter Long talked to the teams about what his 2016 CHaD Football experience means to him. He then donated $5,000 to the game with the lone stipulation being that it go to the fundraising efforts of his East brethren! Players raised a total of $67,000 this year, meaning that the athletes in the game have generated $660,000 over 10 years!
At the banquet, Rheinhardt was honored as the game's top fundraiser and earned the Dan Duval Community Service Award for his work in the Bow community. East's top fundraiser was Somersworth's Jacob Gibson, who fundraised a total of $3,362. Gibson had a late push to surpass Pinkerton's Jack Mackiernan and his total of $3,197.
A scoreless game through one quarter saw Team West go on a marathon 16-play drive in the second, capped off by a Kyle Crampton (Merrimack High School) touchdown run of 10 yards. Just before half-time, we saw the first of two touchdown passes by Bo Dickson MVP Joe Mikol (Bedford High School), who found his Bedford teammate Andrew Grudinskas for a 14-yard score.
The third quarter saw West extend the lead with the game's biggest play – a 77-yard touchdown pass from Mikol to Shea Goodwin (Merrimack) that put West in the driver's seat. Nashua South's Nyeoti Punni capped the scoring in the fourth with a 31-yard rushing score for a 26-0 West lead.
Mikol finished with 220 passing yards, including the touchdown to Goodwin, the longest scoring play in game history. He added two extra points and averaged better than 40 yards on three punts.
Goodwin led all pass catchers with five receptions and 111 yards. Punni (43 yards) lead a balanced West rushing attack that tallied 167 yards on 39 carries.
East's offense was held in check by West but still saw Londonderry's Colby Ramshaw (70 yards) and Salem's Thomas Ahlers (57 yards) record five catches each.
Milford's Logan Barnhill led the vicious West defense with six tackles and a sack. Camden Wheeler of Merrimack and Rheinhardt each added two sacks on a day when West allowed just 253 total yards. The victory means Souhegan head coach Robin Bowkett picked up his second CHaD head coaching victory after last year's West triumph.
Many thanks are needed for the bevy of people and businesses who made the game possible, starting with our sponsorship committee. These business and community leaders volunteer their time and their connections to bring in companies to support the game each year. Volunteers play a large role as well, with nearly 30 required to keep things running smoothly on game day.
Saint Anselm College's staff and students played a big role in the game. Led by Rob Foreman, this team was once again willing to help with any request to ensure a positive experience for all Dartmouth Health Children's attendees and supporters.
Lastly, we are incredibly grateful to the players and coaches who commit months to this journey, culminating with a week of practice leading into the game. They spend countless hours fundraising and game-planning to ensure that money is raised for the cause and that the action on game day is worthy of its all-star label.
In September, the next high school season will begin and that means we'll be looking for the next crop of 2023 All-Stars to hit the field next June!