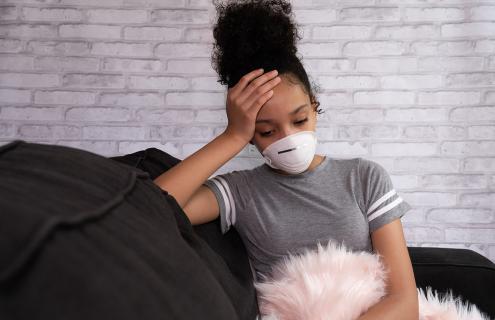 Now, perhaps more than ever, we need to do all that we can to ensure the mental well-being of children and adolescents.
Steven C. Schlozman, MD
U.S. Surgeon General Vivek Murthy recently released a national advisory about protecting the mental health of young people. While social media, increasing substance misuse and other societal factors have contributed to the mental health struggles of adolescents during the last decade, Murthy's advisory warns of a crisis partly due to stress created by the COVID-19 pandemic. It cites how depression and anxiety have doubled for adolescents during the pandemic, with 25% experiencing symptoms of depression and 20% having anxiety symptoms.
"Mental health challenges in children, adolescents, and young adults are real, and they are widespread. But most importantly, they are treatable, and often preventable," Murthy writes.
Steven C. Schlozman, MD, child psychiatrist, Children's Hospital at Dartmouth-Hitchcock (CHaD) and associate professor at Geisel, agrees we are experiencing a crisis. He says the rate of teenagers who died by suicide steadily dropped between 1985 and the early 2000s, but has been on the rise over the last few years.
He explains there are many reasons for the lack of mental health support for adolescents, which have helped make the situation worse. The availability of adolescent psychiatric care providers is already low and the amount of education required for these positions is time-consuming and costly. In-patient pediatric beds in psychiatric hospitals are also scarce—causing a backlog where young people are in other hospitals waiting for beds—and as a society we are still fighting stigma around seeking help.
"As a culture and a society, we have to think outside of the box. The current system of care is not helping enough and we need to figure out a new way of delivering care," Schlozman says. "What impresses me about Dartmouth-Hitchcock is the partnership between primary care and child mental health providers. We are connected and help each other meet patient needs."
How to help
There are ways we can combat the mental health struggles of adolescents in our family and friend groups. Schlozman encourages parents to check in with kids regularly, especially if they seem to be isolating themselves from friends and experiencing a decline in grades. Young people may also post worrisome things on social media, so it's best to address them and reach out to other parents if it's not your child.
"If you're worried, say something. There is zero evidence that if you ask someone if they are thinking about hurting themselves, you are giving them the idea to do so," he says. "But studies show people [experiencing depression and anxiety] are glad to have been asked."
Schlozman says parents shouldn't worry alone, and instead should talk with partners, friends, pediatricians and schools. Others in their adolescent's life have interactions with them in different environments outside the home and can share their perspectives on their behavior and state-of-mind. If a young person requires treatment for depression or anxiety, parents can help normalize it and share any stories about how it has helped them or a friend in the past.
"Remember, a child's health includes mental health. In fact, mental health is integral to overall health, despite the current challenges that the ongoing pandemic places on an already stressed mental health system," Schlozman explains. "Now, perhaps more than ever, we need to do all that we can to ensure the mental well-being of children and adolescents."