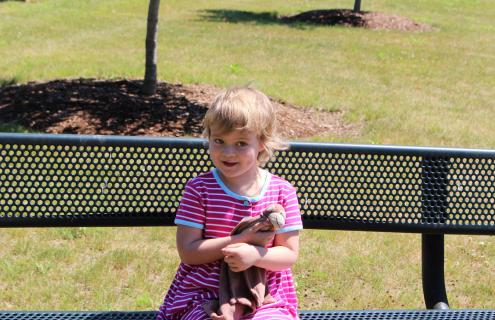 Avery Smith, five, is a spunky and energetic girl. "She's a force of nature," her mom, Caitlin Smith, says. "Which is great. That's been the part of her personality that's pushed her through tough times."
On April 26, 2017, Avery was diagnosed with B-cell Acute Lymphoblastic Leukemia.
"She had a fever for about a week, and we took her to the doctor for a simple blood test. The doctors called us and said, 'With lab results like this, we are concerned that this is leukemia. You need to pack a bag quickly and get Avery to Dartmouth-Hitchcock tonight,'" Caitlin recalls. "It was a complete and total shock."
"When we walked through the Emergency Room doors, we were greeted by a woman working at the desk—she sweetly complimented Avery's shoes, took our information, and handed Avery a huge stuffed teddy bear all in one fell swoop," Smith says. "In the very first moment we were at the hospital, Avery had a smile on her face."
During the next six days of Avery's inpatient stay at the Children's Hospital at Dartmouth-Hitchcock (CHaD), Smith says her daughter was smiling and giggling more often than not.
"She had all kinds of procedures done, was poked and prodded, and started chemotherapy. But there was so much more going on than those tests and procedures. Everything the staff does there—they pull the focus away from the tubes, needles and tests, and let the kids focus on being kids," Smith says. "The staff work together like a well-oiled machine providing distractions, but also allowed Avery to talk about what might be scary, or worrisome, all while she played with toys."
Today, Avery is doing well enough with her treatments that she started kindergarten, which is the first time she has been able to interact with other children in a year and a half. Avery will take oral chemotherapy medications every day at home, and still undergo monthly treatments at CHaD to manage her leukemia while attending school.
She is also the 2018 Kid HERO—a CHaD patient who serves as an ambassador to the CHaD HERO event a community fundraising event that benefits CHaD—and the inspiration for "Team brAVERY," one of the top fundraising teams of 2017.
In 2017, Avery's father, Chris, created Team brAVERY to support her cancer battle and to empower and help all children and their families who are receiving care at CHaD. As a team, they raised over $16,000, surpassing their original goal of $5,000. This year, Team brAVERY hopes to raise $20,000.
"We're excited to be a part of the CHaD HERO again this year, and have more of a central role in it. Last year, we weren't sure Avery would be able to attend. It was during the worst week of her care, but amazingly, she was so excited to be there. She had a smile on her face the whole day," Smith says. "So this year, just seeing what a different place we're in with her treatment—it's a big thing, and she's excited about it."
Jen Rupp, MS, CCLS, child life specialist, and Jef Meletio, MSW, social worker, worked with Avery and her family from the first day she entered the hospital, and throughout her treatment.
"From the beginning, the whole family was super engaged. They did a really good job at normalizing her diagnosis; not treating her like a sick kid," Meletio says. "They embraced her illness as part of their lives, as opposed to having it define them. They have made it a part of who they are."
Rupp says even though Avery was diagnosed in the spring of 2017, it was remarkable that by that fall they were working to give back to other children at CHaD.
"That soon in her diagnosis, to be able to pay it forward while Avery was still in treatment, to look at ways to help, was so kind and generous," she says. "They were able to see beyond themselves and to how they could help not just Avery but others as well."
Smith and her family realize that they are just one story, one patient and one family and that there are many others receiving the same amazing care at CHaD. "That's why we feel it is so important to participate in the CHaD HERO—we want to do anything we can to support other families, programs and services that have helped us get through such a tough time."
For those interested in participating in the CHaD HERO as a hero, spectator or volunteer, visit www.CHaDHERO.org for a listing of the full day of events, how to register as a caped crusader, as well as fundraising and volunteer information.