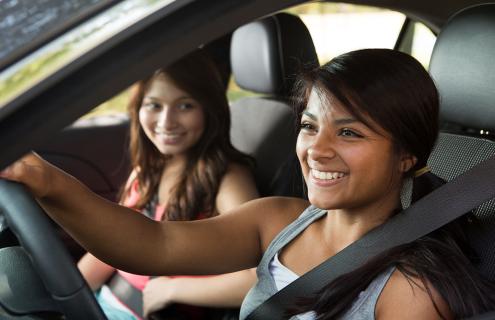 Memorial Day kicks off the unofficial beginning of summer—but it also marks the start of the 100 most dangerous days of driving. The American Automobile Association (AAA) Foundation for Traffic Safety named the period between Memorial Day and Labor Day, the "100 Deadliest Days on the Road." According to AAA, nationwide, from 2010 to 2019, teen drivers accounted for 7,038 deaths during these 100 days—that is more than seven people per day.
As summer begins, teens will be staying out later and going to barbeques, trips to the beach or college visits. Summer is an important time to remind your teens about driving safely.
Setting expectations
Consider setting ground rules for summer driving. Signing a driving contract with your teen can be an effective way to let them know what you expect. You can find a sample driving contract here: Parent-Teen Driving Agreement | CDC
Since teen drivers are 3 times more likely than adults to be in a crash at night, Safekids.org recommends setting times when they can drive at night.
The costs of impaired or distracted driving
The ultimate costs of unsafe driving can be fatal. But it's also important to explain the legal consequences, which they might not be aware of.
There are steep fines for driving while impaired, intoxicated or distracted—up to $10,000. Those fees don't include:

Legal fees.

Towing.

Car repairs.

Higher insurance premiums.

The cost to install and remove the required ignition interlocks (a breathalyzer device that will not allow a driver to start the engine if they are intoxicated).

License could be suspended for up to 2 years.

Jail for up to two years—longer if the accident involves a death.

Fines for distracted driving or using handheld devices could be up to $500.
Distracted diving
According to TeenDriving.AAA.com, 6 out of 10 teen crashes involve distracted drivers. The top 3 causes of crashes are consistently distracted driving, impaired driving and speeding. And it's not only cell phones that cause distraction. Music, eating and drinking, looking at GPS directions or having passengers in the vehicle all take away a driver's attention.
Teens who drive with multiple passengers—especially if those passengers are teenagers—are at an increased risk for crashes. A study by the National Highway Traffic Safety Administration (NHTSA) found that "teen drivers were two-and-a-half times more likely to engage in one or more potentially risky behaviors when driving with one teenage peer, compared to when driving alone." You can help by limiting the number of passengers your teen may have in the vehicle. 
Impaired driving
Driving under the influence of alcohol or drugs—whether legal or prescribed—continues to be a leading cause of motor vehicle accidents. Even if your teen is not driving, the potential to be harmed exists anytime they get into a vehicle with someone impaired. Talk to your teen about the risks and consequences of impaired driving (see sidebar). Make a plan to pick them up if they don't have a safe ride home.
Speeding
According to the NHSTA, in 2018, speed was a factor in 28% of fatal crashes involving teen drivers. Talk to your teens about the deadly risks of speeding. 
For tips on keeping your teen driver safe, visit the following resources:
For laws associated with impaired and distracted driving visit:
Alexis R. Bly, MPH
Youth Operator Program coordinator
Injury Prevention Center, Population Health, Dartmouth Hitchcock and Dartmouth Hitchcock Clinics
The Injury Prevention Center at Dartmouth Hitchcock Medical Center and Dartmouth Hitchcock Clinics in partnership with the New Hampshire Office of Highway Safety, encourages everyone to share the road and get to where you are going safely.